The Rio 2016 Olympics are just around the corner and are meant to be historic with so many first-times:
1.The number of gold medals will reach 306, the highest in history, due to the return of golf and other sports events. After 112 years, which is the longest wait an event ever endured in modern Olympic Games history, golf finally comes back on stage.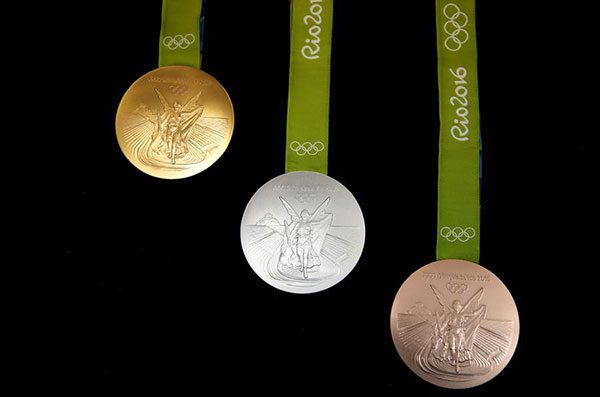 The Rio 2016 Olympic medals are pictured at the Casa da Moeda do Brasil (Brazilian Mint) in Rio de Janeiro, Brazil, June 28, 2016. [Photo/Agencies]
2. A new event, rugby sevens, is expected in the Rio Olympics. Although the Rugby League became a part of the big Olympic family long ago, the rugby event hasn't shown up until this summer.
3. Rio became the first city to hold the Summer Olympic Games entirely in winter, despite the fact that Sydney, located in the southern hemisphere and 22 latitudes farther south than Rio, held the 2000 Summer Olympics.
4. The well-known swimming star Michael Phelps is expected to attend his fifth Olympic Games on the USA team. He is keeping the individual Olympic record with 18 gold medals and 22 medals in total. He can break his own record as long as he wins a single medal.
5. The USA team ranks in first place on the gold medal list, with 977 altogether and will be the first entering the thousand-medal club if they win more than 23 gold medals in Rio. In the past five Olympic Games, the USA gained first place in four of them except Beijing 2008, when China won more than the USA.
6. We are expected to witness a miracle in the shooting gallery, where Nino Salukvadze of Georgia, who won gold and silver medals in the Seoul Olympics and a bronze in Beijing, is going to attend her eighth Olympic Games and reach the record of race-entry times for a female Olympian. Her son, Tsotne Machavariani, will be in Rio as well, which marks the first time that mother and son have been on the Olympic stage together.
7. The Crouy sisters of Estonia are ready for the marathon, which makes them the first triplet Olympians attending the same event.
Huang Zishan contributed to the story