An American squad of NBA stars and their Women's NBA counterparts are expected to add more history to an already amazing Olympic story at the Rio Games.
The Team USA men's squad, guided for the third and final time by coach Mike Krzyzewski, is seeking a third consecutive gold medal and the sixth in seven tries since NBA talent debuted with the "Dream Team" at the 1992 Barcelona Games.
"That Dream Team, I think everyone realizes what they did and then moving forward and putting the USA back on top. That's where we want to stay," Chicago Bulls guard Jimmy Butler said on Monday.
"That's what everybody's goal in mind is, to never accept defeat, to win gold. That's what everybody is about right now."
The US women have been even more dominating since settling for bronze at Barcelona, making five unbeaten runs to gold to enter Rio on a 41-game Olympic unbeaten streak.
Add in 1984 and 1988 gold medals and the US women are 55-1 with seven of the past eight Olympic titles.
"So many athletes before us have set the standard of how to play. I just want to continue in their footsteps and keep that standard of play the same," US Olympic debutante center Brittany Griner said.
"I know everybody is coming for us. No country, no team is going to roll over and just give it to us. We're going to have to go and take it. We have to take our best ball on both ends of the floor."
Krzyzewski, coaxed out of retirement for the Rio run, is 52-1 in international tournament play, with a semifinal loss to Greece at the 2006 worlds in Japan the only blemish on his tenure.
"I'm not nostalgic until something is over," Krzyzewski said. "It's one of the biggest mistakes any competitor can make, to be in only your moment. So I've got to coach them like it's my first time.
"We just want to play as well as we can, be worthy of winning the gold. And also be worthy of winning the respect, continuing to win the respect of our country and the world as we're doing it."
San Antonio Spurs coach Gregg Popovich will replace "Coach K" after Rio, and the players want Krzyzewski to go out on top.
"Well we obviously expect to win gold," said 3-point sharpshooter Klay Thompson of the Golden State Warriors.
"We know it's not going to be an easy road. If we respect our opponent, play hard every night and trust each other then I think we will win gold."
New York Knicks' star Carmelo Anthony, in a US men's record fourth Olympics, could become the first man from any country to win three Olympic hoops gold medals.
"I don't think there are many weaknesses with this team," Anthony said. "We're doing well. Everybody is on board and locked in."
Paul George is back from a horrific leg injury two years ago while training for the US world team that cost him an NBA campaign with the Indiana Pacers.
"That's really the final step in the chapter, coming home with that gold," George said.
LeBron James, Stephen Curry and James Harden were among the stars who withdrew from Team USA consideration, citing long seasons and health concerns.
The US women are sparked by co-captains Sue Bird, Diana Taurasi and Tamika Catchings - three-time Olympic champions on a team featuring nine gold medalists chasing a sixth consecutive crown.
"It takes a lot to get to a fourth Olympics," Bird said.
"It has nothing to do with anything in your control. You have to stay on top of your game and be ready, but so much can happen that can derail, so I just feel really lucky."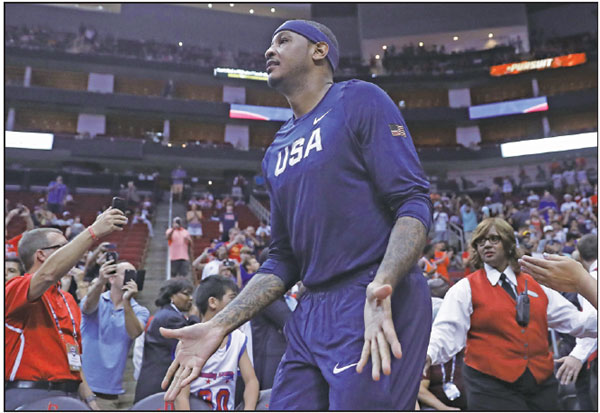 Team USA's Carmelo Anthony is introduced before Wednesday's preOlympic exhibition game against Nigeria in Houston, Texas. Gunning for their third straight basketball gold medal at the Rio Games, the Americans wrapped up the tuneup series with their fifth straight win over international competition. The final score was 11066. / AFRonaldo Martinez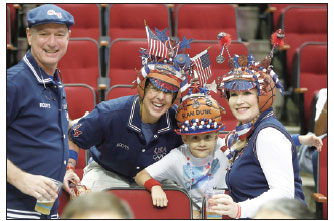 Fans pose for photos before Monday's exhibition game between Team USA and Nigeria in Houston, Texas.
(China Daily 08/03/2016 page24)