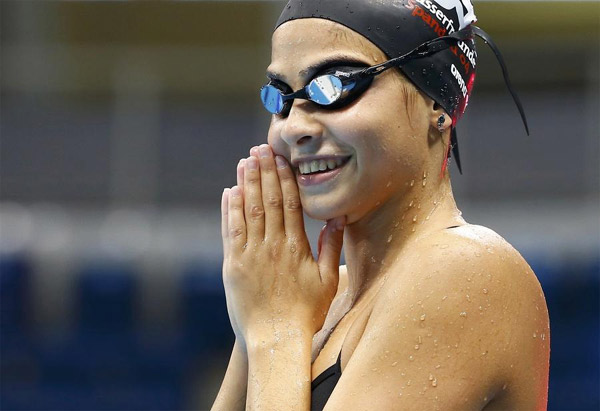 Syrian refugee team swimmer Yusra Mardini, 18, from Syria practices at the Olympic swimming venue. [Photo/Agencies]
NAIROBI - The world seems to have forgotten the deafening sounds of gun fire that rocks Juba streets as it focuses its attention on the Rio Olympic Games. It has left many dispute and homeless. These refugees have run away from war, literally running for their lives.
Now they have to change that and run for inspiration, for hope and just like other athletes heading to the Olympics conquer their fears and secure a win for humanity.
"It is not about winning gold, but to show the world that even as a refugee, you can do whatever you want given a chance," said one of the athletes Anjelina Nada.
The group of athletes, who have gained the required Olympic qualification, will be lining up on the parade during the opening ceremony on Friday, knowing that their effort to compete at the ultimate stage in sports excellence, will inspire hope to millions of their sisters and brothers back home in South Sudan.
The team of refugees has been training in Ngong area in Nairobi.
It will be the first time that a refugee team will be making its debut at the Olympics with an aim of shedding light on the global migration crisis and tribute to their courage and perseverance led by UN Goodwill ambassador for sport Tegla Loroupe.
Running under the International Olympic Committee (IOC) flag, the athletes are Yiech Pur Biel (South Sudan, men's 800m), James Nyang Chiengjiek (South Sudan, men's 400m), Yonas Kinde (Ethiopia, men's marathon), Anjelina Nada Lohalith (South Sudan, women's 1500m), Rose Nathike Lokonyen (South Sudan, women's 800m), Paulo Amotun Lokoro (South Sudan, men's 1500m).
"These athletes have shown their work and interest excelling in sport. They have had disturbing experiences at their homes and they opted to run away. But we have agreed to give them a chance to redeem their life and get their career on the line," said Tegla Loroupe, the team's chief de mission.
Five middle-distance runners from South Sudan, until recently living in Kenya's Kakuma refugee camp, and an Ethiopian athlete (marathon) were cleared by IOC and will be running in Rio forming the refugees' team at the Olympic Games.
The five will join five others from Syria, Democratic Republic of Congo and Ethiopia to make history by taking part in the first-ever Refugee Olympic Team.
"As you know very well, I have been working in the conflict areas in Rift Valley and use sport to bring people together," said Loroupe.
"I realized that many have talent and they have improved their timing in training camp. In 2014 I spoke with IOC President Thomas Bach and he said he wanted to help the refugees."
He started with a team of 30 athletes in the outskirts of Nairobi. A team of 10 athletes including five athletes were selected, but it is the six that will make the team in Brazil.
"The idea is that these refugees also have a future and sport is a future for them. We want to give them a chance to run and join the Olympics," said Coach John Anzra.
Officially, the athletes will compete for the Refugee Olympic Team and march with the Olympic flag immediately before host nation Brazil at the opening ceremony.
"The Olympic anthem will be played in their honour and the Olympic flag will lead them into the Olympic Stadium," said IOC President Thomas Bach.
James Nyang, who will be running in the 800m distance said: "It will change my life from lower level to somewhere up."