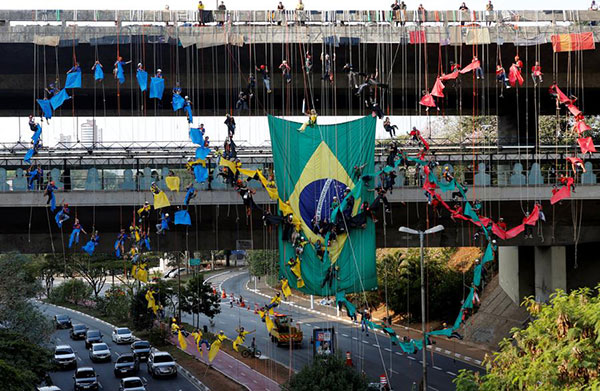 Acrobats rappel from a bridge to form the Olympic rings in Sao Paulo, Brazil on Sunday. Paulo Whitaker / Reuters
Security at the Olympic village has been tightened following the theft of a computer and team shirts from the Australian delegation during a fire evacuation, team officials said on Sunday.
Australia chef de mission Kitty Chiller told reporters that a laptop and team jerseys were stolen when the facility was evacuated for a small fire on Friday.
"There was one laptop taken from one of our cycling officials on the fifth floor. Our IT equipment in our operational space had also been rifled through but nothing was stolen," Chiller said.
Chiller said during the evacuation she noticed three fire marshals apparently stealing the Australia team shirts.
"When I arrived, which was halfway through the evacuation, I saw three fire marshals - I don't know who they were - walking out with our team shirts," she said.
"We don't know how many team shirts were taken and, yes, that's concerning."