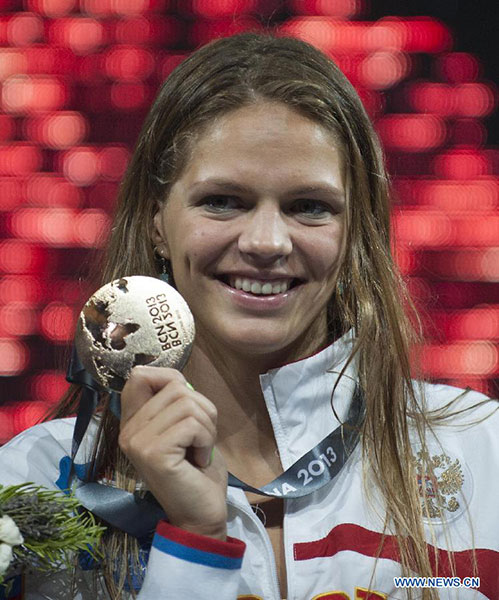 Yulia Efimova of Russia poses with her gold medal during the awarding ceremony for the women's 200m breaststroke final of the swimming competition of the 15th FINA World Championships at Palau Sant Jordi in Barcelona, Spain, on Aug 2, 2013. [Photo/Xinhua]
Yulia Efimova on Sunday became the third Russian swimmer to challenge her Rio Olympics ban as the International Olympic Committee rejected blame for the Russia doping crisis.
A Russian wrestler, Viktor Lebidev, has also made an appeal against bans ordered over Russia's state-organized use of banned substances.
Efimova, who won the bronze medal in the 200-meter breaststroke at the 2012 London Olympics, follows Vladimir Morozov and Nikita Lobintsev in taking her case to the Court of Arbitration for Sport.
CAS confirmed the new appeals by Efimova and Lebidev.
The cases of Morozov and Lobintsev, also medal-winners in London and the Beijing Games in 2008, were heard by a CAS tribunal on Sunday with a new hearing set for Monday, said CAS secretary general Matthieu Reeb.
Lebidev has launched his case against the IOC, wrestling's governing body and the Russian Olympic Committee.
Seven Russian swimmers were banned from Rio by FINA after the IOC ordered sporting federations to exclude any Russian competitors implicated in an investigation into Russia's doping scandals by Canadian lawyer Richard McLaren.
McLaren's report for the World Anti-Doping Agency (WADA) said there was a state-organized doping scheme in Russia, with the secret service helping the sports ministry to manipulate samples at the 2014 Sochi Winter Olympics and other major events in Russia.
At least 117 of the 387 athletes Russia wanted to send to Rio have been excluded. At the same time, there have been recriminations over who is to blame for the shadow cast over the Rio Games.
IOC president Thomas Bach rejected suggestions that the chaos represented a "huge failure" for the IOC.
"No. And this is for very obvious reasons," Bach said. "The IOC is not responsible for the timing of the McLaren report.
"The IOC is not responsible for the fact that different information which was offered to WADA already a couple of years ago was not followed up."