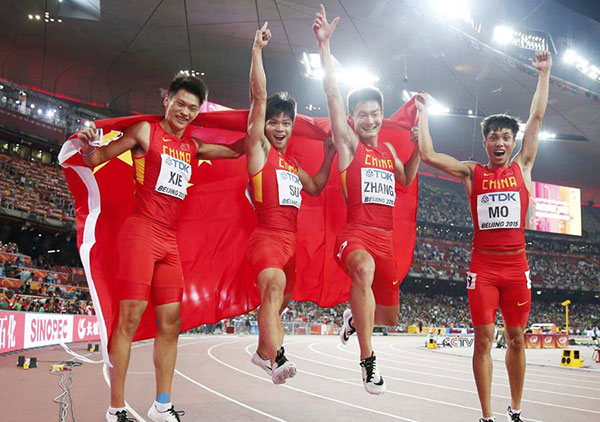 Members of second placed team China Xie Zhenye, Su Bingtian, Zhang Peimeng and Mo Youxue (L-R) celebrate after the men's 4x100 metres relay final at the 15th IAAF World Championships at the National Stadium in Beijing, August 29, 2015. [Photo/Agencies]
RIO DE JANEIRO - After 45 days of closed training in the United States, the Chinese men's 4x100m relay teams arrived in Rio De Janeiro on Sunday aiming to make history by entering the final at the 2016 Olympic Games.
Last summer the Chinese men's relay team surprised the world on their home soil as they clocked 38.01 seconds to take the silver medal at the 2015 IAAF World Championships in Beijing.
China has never reached the Olympic final of men's 4x100m relay. But now the "Fantastic Four" -- former Youth Olympic 200m gold medalist Xie Zhenye, former world 100m youth champion Mo Youxue, Zhang Peimeng as well as Su Bingtian, the first ever Chinese to ever dip under the 10-second barrier -- are ready to rewrite the history.
"Our 4x100m relay team is so far the best in the country's sprinting history. Both Su Bingtian and Xie Zhenjie are in their best level. I hope we can make history again at the Olympics," said Zhang Peimeng, who has a 100m personal best of 10.00s.
"It will be my third and final time to compete at the Olympics. I do not want to leave any regret," he added.
Zhang's ambition was echoed by Su, who has a personal best of 9.99s and is the first sprinter to ever enter the final at the World Championships.
"We have gathered plenty of experience competing internationally. We will not have stage fright any more," said Su.
Su has caught a cold during his flight from Los Angeles to Rio since the temperature in the cabin was quite low. But he believed the cold would not have much effect on his final build-up for the Rio Games.