Ding Ning & Ma Long named 2016 ITTF Table Tennis Stars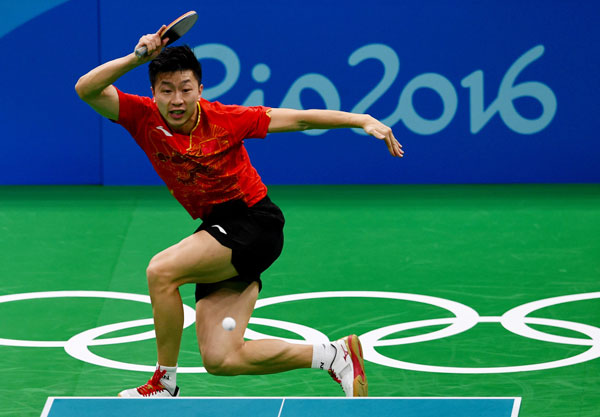 Ma Long of China eyes the ball during play against Zhang Jike (CHN) of China during Men's Singles Gold Medal of table tennis. Ma Long, China, bt Zhang Jike, China, 4-0. [Photo by Wei Xiaohao/chinadaily.com.cn]
BEIJING -- Rio Olympic champions Ding Ning and Ma Long have been named the respective ITTF Female and Male Table Tennis Stars at the Seamaster Qatar 2016 ITTF Star Awards.
The ceremony was held in Doha, Qatar, on Thursday night, and eight awards were handed out to honor the world's best table tennis athletes.
Having dominated the international table tennis scene since his victory at the 2015 World Table Tennis Championships, world number one Ma Long was the favorite for the Male Table Tennis Star award. Also named best table tennis player in 2015, Ma becomes the first athlete to receive the title twice in a row.
"Thanks to the ITTF and the Qatar Organizing Committee for giving me this award. I'm very happy and honored to receive this award in Doha. Thanks to everyone for the recognition of my efforts and results in 2016," said Ma.
"I hope that through my efforts and those of other members of the table tennis community, we will be able to spread table tennis to more corners of the globe."
Ding Ning appears to have captured the hearts of table tennis fans and the expert panel consisting of fellow players and members of the media, who voted her best Female Table Tennis Star. Ding was inducted into the ITTF Hall of Fame together with fellow teammates Xu Xin and Liu Shiwen.
China' s Liu Jing, who claimed her third consecutive Paralympic singles gold, was named the Female Para Table Tennis Star. The award was presented by Stag International. Belgium's 16-year-old Laurens Devos took the Male Para Table Tennis Star award.
Chinese player Fan Zhendong claimed the 2016 Star Point, while the Star Coach award went to Liu Guoliang of China. Miu Hirano of Japan returned home with the 2016 Breakthrough Star title. At 16, Hirano became the youngest World Cup champion, and is the first non-Chinese ever to take home the trophy.
Egypt's Rinad Fathy was the 2016 Fair Play Star for acts of sportsmanship and honesty at the ITTF African Junior & Cadet Championships. At 2-2 and 12-11 in the Cadet Girls' Team Final, Fathy gave an edge point to her opponent that neither the umpire nor the assistant umpire saw, which resulted in the loss of her individual game. But Fathy's sportsmanship was rewarded in the end, as Egypt was crowned the eventual champion.
Most Popular
Highlights
What's Hot