Chapecoense awarded Copa Sudamericana title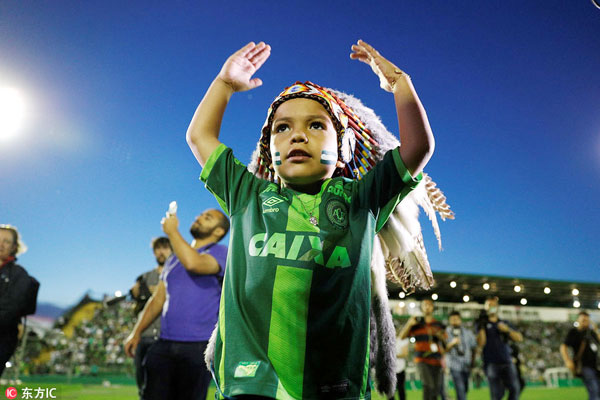 Fans of Chapecoense soccer team pay tribute to the players of Brazilian team Chapecoense Real in Chapeco, Brazil, November 30, 2016. [Photo/IC]
RIO DE JANEIRO -- The Brazilian football team wiped out by a plane crash in Colombia last week have been awarded the Copa Sudamerica title, South American football's governing body CONMEBOL said on Monday.
Meanwhile Atletico Nacional de Medellin, who had been due to play Chapecoense in the tournament's final, were bestowed with a one-off fair play award.
The announcement came a week after 71 people died when a chartered flight carrying the Chapeceoense football side crashed just before its planned destination near Medellin.
The victims included 19 Chapecoense players and all of the club's coaching staff. There were six survivors.
"The (CONMEBOL) board has decided to name the Chapecoense Football Club as champions of the 2016 Copa Sudamerica with all the sporting and financial benefits that it entails," the Paraguay-based body said in a statement.
In addition to the trophy, the Brazilian club received two million US dollars in prize money.
Most Popular
Highlights
What's Hot