Southgate proud of what he's 'proved'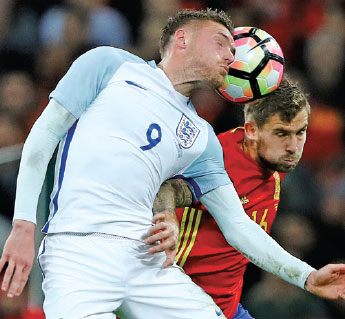 England's Jamie Vardy and Spain's Inigo Martinez vie for the ball during Tuesday's 2-2 draw in their friendly match at Wembley Stadium in London. Eddie Keogh / Reuters
Gareth Southgate said he has shown he can handle "big matches" after concluding his four-game tenure as England's interim manager with a 2-2 friendly draw against Spain on Tuesday.
Appointed caretaker manager in the wake of Sam Allardyce's abrupt departure, Southgate led England to two wins and two draws in his brief stint at the helm.
He has refused to declare an outright interest in the position, which will now be discussed by England's Football Association, but expressed pride at having given a good account of himself.
"I've proved to myself I can manage big matches, that with the help of my staff I can tactically prepare the team to play a top side and give them a really tough test," Southgate said after the match at Wembley.
"I feel every situation we've been through - many of which have been complex and potential powder kegs - we've coped with very well.
"This has been a brilliant experience. I've thoroughly enjoyed working with the players and I can see the potential of the group.
"When I took over, it was a moment of instability for everybody. We've brought stability back and built a platform for the team to push forward.
"In terms of the remit we were asked to do, we've fulfilled that. I'm proud to have led the country for a couple of really important games and experienced what that feels like."
British media reports suggest Southgate, formerly England's Under-21 coach, will now be offered the permanent job, but he said he had "no idea" when a decision will be made.
"We've got a European Under-21 Championship next summer and the draw is being made next month," the 46-year-old said.
Facing an injury-ravaged Spain, England went up 2-0 courtesy of a ninth-minute Adam Lallana penalty and a flying header by Jamie Vardy, who ended a 14-match scoring drought.
But Spain debutant Iago Aspas reduced the deficit in the 89th minute before substitute Isco squeezed an equalizer past England goalkeeper Tom Heaton in the sixth minute of stoppage time.
Injuries to Sergio Ramos, Gerard Pique and Jordi Alba prompted Spain coach Julen Lopetegui to deploy a makeshift three-man defense of Nacho, Inigo Martinez and Cesar Azpilicueta.
After half an hour he switched to a back-four and praised his players for standing up to the waves of England attacks.
"We were missing quite a few players through injury, so it was quite an inexperienced defense," said the former Porto coach, who also gave a debut to Manchester United midfielder Ander Herrera.
"We knew England was very, very fast on the break. The poor lads at the back, Nacho and Martinez, it was an ugly game for them.
"They were always going to suffer against the speedy England forwards, but they reacted well in the second half and coming out with a draw at the end was a real credit to the defense."
Overall, Lopetegui drew positive conclusions.
"The main thing is we showed the character to come back from a 2-0 deficit," he said.
"We did what was necessary to come back in a difficult match. Hopefully they can apply what they learned tonight in the more important competitive games ahead."
England was missing captain Wayne Rooney after he returned to Manchester United for treatment on a minor knee injury.
British tabloid The Sun has claimed Rooney drunkenly gatecrashed a wedding at a hotel in Watford, north of London, on Saturday, but Southgate said an injury was the only reason for his absence.
"Wayne picked up an injury in the game against Scotland on Friday," he said. "He couldn't train on Sunday and that's it."
Most Popular
Highlights
What's Hot