Schweinsteiger's exile finally ends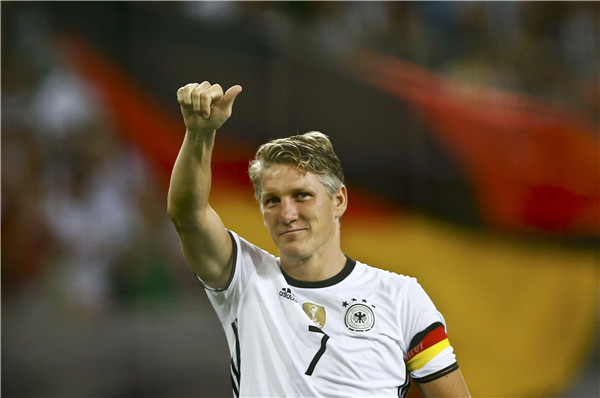 File photo of former Germany midfielder Bastian Schweinsteiger [Photo/Agencies]
Manchester United leftback Luke Shaw hailed Bastian Schweinsteiger's return to first-team training after the former Germany midfielder's exile came to an end on Monday.
The 32-year-old has not played since United manager Jose Mourinho's preseason arrival and was written off as an asset in the club's year-end financial results in June.
He was also omitted from United's Europa League squad, but photos on the club's social media accounts showed him training with teammates ahead of Thursday's match at Fenerbahce.
"It's great to see him back," Shaw said at United's training complex.
"We found out a couple of days ago, and it's so great to have him back. He's a big influence in the dressing room and obviously on the pitch, especially for the young players like myself.
"It's a great boost for us, the experience and the quality that he brings."
Shaw's words were echoed by former United captain Bryan Robson.
"Bastian's a great lad, speaks perfect English, has got great quality and vast experience," said Robson, who was speaking at the launch of a United deal with Chinese mattress firm Mlily.
"For me he could definitely help the group, on the confidence side and with his know-how on how to play the game in that central role.
"I still think he could be valuable to the squad."
Shaw was criticized by Mourinho after United's 3-1 loss at Watford last month and, following a spell on the sidelines, he was left out of the lineup for the recent 4-0 loss at Chelsea.
But he has started United's last two games, against Manchester City in the League Cup and Burnley in the Premier League, and said there are no issues between him and the manager.
"I was very unhappy to not be in the squad (against Chelsea), because I really wanted to play that game," said Shaw, whose team is currently eighth in the Premier League standings.
"But at the end of the day it's the manager's decision. After the game I spoke with him about it and I 100 percent agreed with what he said about why I wasn't involved in the squad.
"Obviously we'll keep that between us. But I've been feeling really good for the last couple of games. I've felt fitter and stronger."
United was held to a 0-0 draw by Burnley at Old Trafford on Saturday despite mustering 37 attempts at goal - its third successive league game without scoring.
Zlatan Ibrahimovic was particularly ineffective and has now gone five games without scoring, but Shaw does not believe the Swede's fabled self-confidence has been adversely affected.
"No chance at all. I wouldn't say that," said the England leftback.
"He's a world-class player and I wouldn't say it's a dip. He's just been unlucky.
"Zlatan's had chances, but the saves that have been happening from his shots are unbelievable, especially that volley he did on the weekend, with Heats (Burnley goalkeeper Tom Heaton) saving that.
"He's a very confident person and his confidence is always sky-high."
He added: "It's a shame we couldn't get the three points on Saturday, but we have to keep playing the way we're playing.
"The goals are going to come."
Most Popular
Highlights
What's Hot