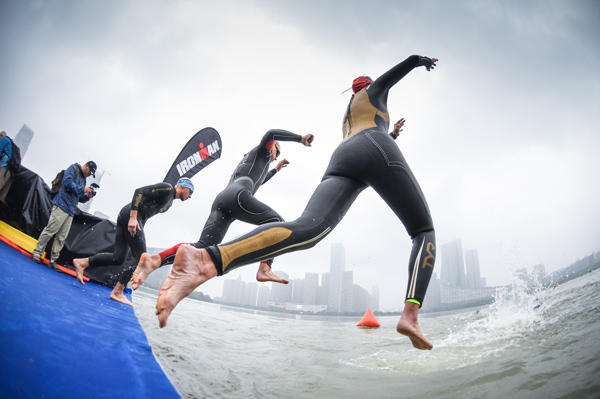 Athletes jump into the water to begin the 1.2-mile swim as part of the Hefei Wanda City IRONMAN 70.3 triathlon in Anhui province last weekend. It marked the first time the IRONMAN 70.3 series has been held in China. [Photo/Xinhua]
The World Triathlon Corporation (WTC) plans to bring more IRONMAN triathlon series to China and expects a rapid growth of the sport here after last weekend's successful debut of the IRONMAN 70.3 in Hefei, Anhui province.
Tens of thousands of spectators helped set the scene in Hefei as Brad Kahlefeldt from Australia and Radka Vodickova from the Czech Republic earned victories at the inaugural Hefei Wanda City IRONMAN 70.3 on Sunday.
Kahlefeldt took top honors in the men's race with an overall time of 3:55:31, while Vodickova bested the women's field with a time of 4:13:49.
The top finisher from China was Miao Hao, who finished eighth in the men's race with a time of 4:07:44.
"I'm impressed that the race was so well organized, and the whole bike course was so safe," said Vodickova.
"After this race in Hefei, more and more athletes in China will be excited to take part in other IRONMAN races. China will be a very strong nation in triathlon."
Kahlefeldt, who is a professional triathlete and coach as well, said he would love to coach Chinese triathletes and help promote triathlon's development here.
"It's the first time IRONMAN 70.3 has come to China and it's an exciting and nice event," he said. "We got very good support on the course and one of the best responses from the audience in the world."
The race left Hefei residents with many memorable moments.
The two winners, who are an engaged couple, kissed to celebrate the best gift for their upcoming wedding in December.
The last athlete crossing the finishing line, a 27-year-old female runner from Hefei, was surprised at the cheers from spectators and the warm greetings from officials from the city government, Wanda and WTC.
"IRONMAN is a very complicated event to organize," said Andrew Messick, CEO of WTC, who also competed in Hefei. "The combination of swimming, biking and running takes a lot of work and skill. Luckily we have a great partner in Hefei to make it happen for us. And having a passionate partner like Wanda enables us to be able to create great races much faster than before."
The inaugural IRONMAN 70.3 Xiamen will take place on Nov 13. Continuing the expansion of race offerings in China, IRONMAN will be adding three new events in 2017 to join Hefei and Xiamen - Liuzhou (April 1), Qujing (May 28) and Chongqing (Sep 24).
"The future for IRONMAN races in China is fantastic. We will see Chinese athletes, professionals and amateurs, competing at the highest level very soon," Messick said.
xujingxi@chinadaily.com.cn