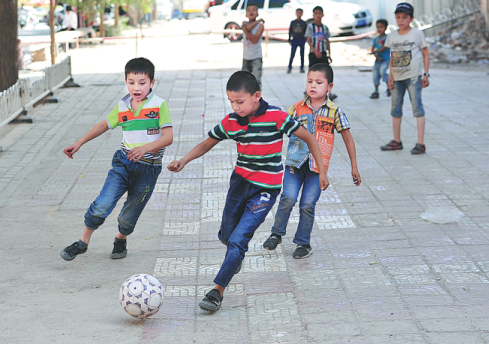 Children play soccer on a sidewalk in Kashgar in the Xinjiang Uygur autonomous region. [Photo/Xinhua]
As a torrential downpour unloaded on a Beijing soccer field on a summer day, a group of boys from the Uygur ethnic group played on. Their coach, Parhat Mamtemin, called in vain for them to come in from the rain. "They take no notice," he said, with a sigh.
The team, from Moyu county, Hotan prefecture, in the south of the Xinjiang Uygur autonomous region, has just completed a national youth soccer tournament in Jinzhou in the northeastern province of Liaoning.
They swept the field with 11 wins and no losses, scoring 92 goals. It was the team's best-ever performance.
"I used to play forward in our team, like (Cristiano) Ronaldo," said 12-year-old Azimat, wistfully.
However, unlike his Portuguese idol, Azimat missed a number of chances to score, so, taking the boy's calm character into account, coach Parhat made him the goalkeeper. In Jinzhou, Azimat conceded just three goals, and made a great contribution to the team's performance.
Azimat's parents were less supportive of their son's talent when he joined the team. "Many parents in China still do not recognize the importance of children playing sports," Parhat said. "All sports, including soccer, are just recreation in their opinion."
Broadening horizons
In the early days, some parents interrupted Parhat's training sessions and forced their children to leave.
But as they saw the team fly around the country to play games, the parents gradually accepted their children's passion for the "beautiful game".
"They realized that soccer can broaden their children's horizons," said Parhat, who teaches Chinese and math at the primary school in Kawak village in Moyu county. He established the school soccer team in 2006, training the young players after class. To date, 40 boys have played in the team, and in the past 10 years, more than 200 students have joined training sessions.
None have become professional soccer players. "Our school is so remote that few soccer teams come to select potential young players," Parhat said.
The school occasionally misses out on match fixture information, too.
"Our team represents the general condition of grassroots school soccer in Xinjiang," Parhat said. "But the children love playing."
The region also lacks flat pitches and a professional training system. Parhat's team is lucky to be funded by the local government, the education bureau and donations, which allowed the children to travel to Spain in April for a month-long training program.