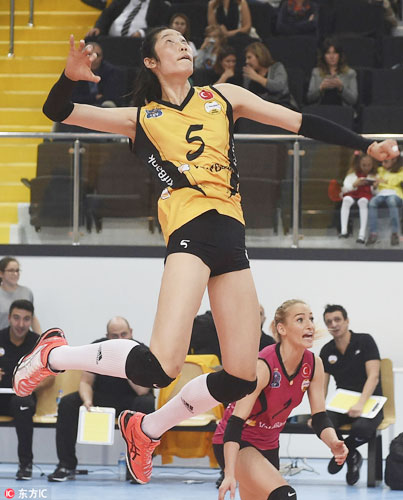 Vakifbank's Zhu Ting of China, serves during a friendly game against Italy's Pomi Casalmaggiore at the Turkish team's newly unveiled sports hall Vakifbank Spor Sarayi (Vakifbank Sports Palace), in Istanbul, Turkey, Oct 8, 2016. [Photo/IC]
Zhu signed with Vakifbank club with a deal proposed by Lang Ping, head coach of the Chinese women volleyball team.
Speaking about Zhu's skills, Guidetti told Xinhua that Zhu is an extraordinary athlete adding she can attack from every angle with great power.
"She is an amazing player, maybe one out of 20 or 30 years," he said. "We are very happy and lucky to have her in the team."
Vakifbank player Lonneke Sloetjes also told Xinhua that Vakifbank is like FC Barcelona in volleyball and that they want to win every competition.
After the season opening ceremony, Vakifbank played with Italian club Pomi Casalmaggiore in a friendly match.