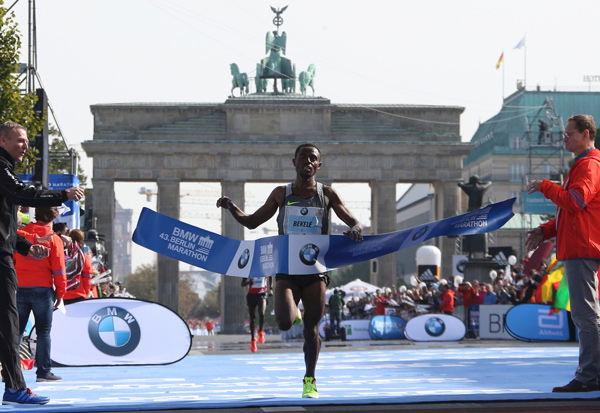 Kenenisa Bekele of Ethiopia crosses the finish line to win the men's competition at the Berlin marathon in Berlin, Germany, Sept 25, 2016. [Photo/Agencies]
BERLIN - Kenenisa Bekele won the 43rd edition of the Berlin Marathon after crossing the finish line in two hours, three minutes and four seconds on Sunday.
Bekele has run the second fastest marathon time in Berlin but missed Dennis Kimetto's world record time by just six seconds.
Former Berlin winner Wilson Kipsang crossed the line 10 seconds after Bekele, while Evans Chebet finished third in two hours, five minutes and 31 seconds.
The marathon started with a strong pace in the first five kilometers. The leading group was more than one minute inside the World Cup time before Kipsang took the lead to establish a four-second advantage over Bekele.
The Ethiopian turned up late whereas Kipsang's pace seemed to decrease at the 38-kilometer mark, allowing Bekele to close the gap and to pull away at the final drink station.
"I wanted to run a personal best," Bekele said. "The time was fast but I am a little disappointed that I missed the world record."
Ethiopia's women dominated their competition as Aberu Kebede wrapped the win in two hours, 20 minutes and 45 seconds, followed by Birhane Dibaba (2:23:58) and Ruti Aga (2:24:41).