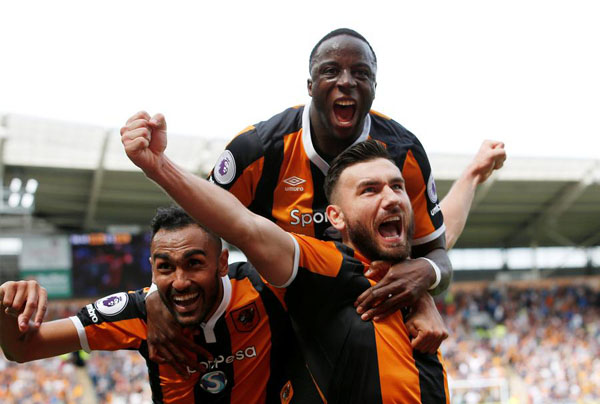 Hull City's Robert Snodgrass celebrates scoring their second goal against Leicester City during their English Premier League game at the The Kingston Communications Stadium, Aug 13, 2016. [Photo/Agencies]
China's investment assault on European football has gathered further momentum as a Chinese takeover of Premier League club Hull City appears imminent and multiple investors have lodged inquiries over taking a stake in Liverpool FC.
Following reports of an Everbright approach for Liverpool that values the club at 800 million pounds, on Monday Reuters revealed that Chinese conglomerates Dalian Wanda and Fosun have seperately lodged "letters of interest" with the current ownership, US-owned Fenway Sports Group (FSG).
A senior Liverpool official contacted by China Daily reiterated FSG's denial over any bid for the club which they say is not for sale. The owners would however consider selling a minority stake in Liverpool, similar to Chinese consortium China Media Capital's $400 million purchase of a 13 percent share in City Football Group that controls Manchester City.
"It seems that there is a willingness inside the club to sell some or all of Liverpool to the Chinese investors," Simon Chadwick, professor of sports enterprise at Salford University, told China Daily. "I also sense that Liverpool's owners are likely to be playing hardball. There has been on-going and competing Chinese interest in Liverpool for several months. My feeling is that the owners will be using this to push-up the price of either an equity stake or the final sale price."
Meanwhile, it appears the sale of Hull City to siblings Dai Yongge and Dai Xiu Li is imminent. The pair recently registered a new UK-based company — Renhe Goldenway Sports Management Ltd — at London's Companies House, according to the Hull Daily Mail. Should current owner Assem Allam go ahead with the sale, ownership of the club will likely be transferred to this new firm. The brother and sister duo are both registered as directors of the company, along with a third individual, Hao Tang.
The Dai family made its fortune in the 1990s by converting old bomb shelters into underground malls. Their company, Renhe Commercial Holdings, owns shopping centers in dozens of cities around China. Dai Xiu Li has appeared on Forbes' billionaire list, and is currently estimated to be worth around £700 million having handed over a 48 percent stake in the business — worth £246 million — to her brother in 2014.
Dai Xiu Li was at one time married to British maths teacher Tony Hawken, and she owns a home in London. She and her brother were pictured at the KCOM Stadium for Hull's season opener on August 13, and it's said she developed a love of football while taking her son to Premier League matches. The Dais also own Chinese club Beijing Renhe.
"We don't know much about the Chinese investors, but we are quite hopeful and optimistic about [the sale] because of the controversy around the current owners — they are deeply unpopular, so everyone is hoping this takeover goes through," Ryan Richardson, vice chair of Hull City Supporters Trust, told China Daily. "Everyone is looking for a fresh start and that the team moves past the Allam years that have been quite negative."
Hull has ping-ponged between the Premier League and the second tier of English football since Egyptian-born British businessman Assem Allam bought the club in 2010. Hull City won promotion back into the top flight at the end of last season. In 2013, Allam announced plans to rebrand the club as Hull Tigers, arguing it would make the side more attractive to a foreign fan base. The move greatly angered fans who saw it as disrespectful to the club's history.
"I don't really think [the Dais] would want to do anything like that, I can't see any reason why they would," Richardson said of further disruption to club traditions. "If she's been to games that implies some kind of interest or passion, so this probably bodes well. I think the biggest thing is engagement with fans. Currently there is next to none of that. We want to be involved."
To contact the reporter: angus@mail.chinadailyuk.com