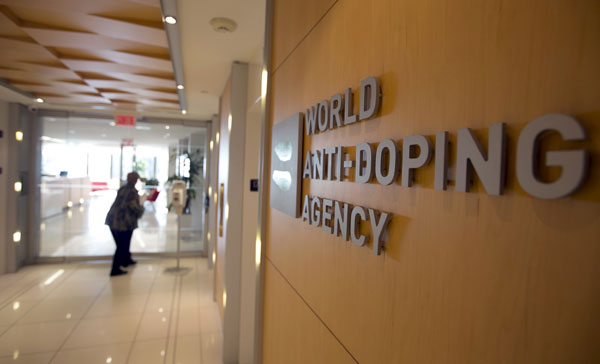 A woman walks into the head office for the World Anti-Doping Agency (WADA) in Montreal, Quebec, Canada on November 9, 2015. [Photo/Agencies]
BEIJING-- The World Anti-Doping Agency has lifted the suspension on the Beijing anti-doping lab after the lab was banned for nearly four months due to technical oversight, the China's Anti-Doping Agency said.
In a statement released on Monday afternoon, CHINADA said "WADA informed them in a letter that the lab had made improvement and met the requirements put forth by WADA".
"The lab will be reinstated as of Aug. 15," said the statement.
WADA banned the Beijing lab on April 22 for a maximum period of four months when lab chief Xu Youxuan said the suspension came after the lab failed a WADA technical test in October last year.
The suspension stopped the lab from carrying out any WADA-related anti-doping activities including all analyses of urine and blood samples.
The lab's suspension spanned China's preparation for the Rio Olympic Games and forced them to send samples to other accredited labs for tests.
WADA confirmed the reinstatement on its website, saying it was pleased by Beijing lab's efforts.
"WADA is pleased to confirm that the Beijing Laboratory's accreditation has been reinstated just ahead of the maximum four-month suspension that was issued in April," said WADA Director General, Olivier Niggli.
"We are confident that the laboratory has corrected its deficiencies; and, will now be operating to the high standards required by WADA," he added.
WADA said during the period of suspension, the laboratory was required to take five remedial steps highlighted by the Disciplinary Committee in its recommendation. WADA experts paid a visit to Beijing lab on Aug. 12 before recommended the reinstatement as they found "that the laboratory had satisfactorily resolved the required non-conformities and recommendations."