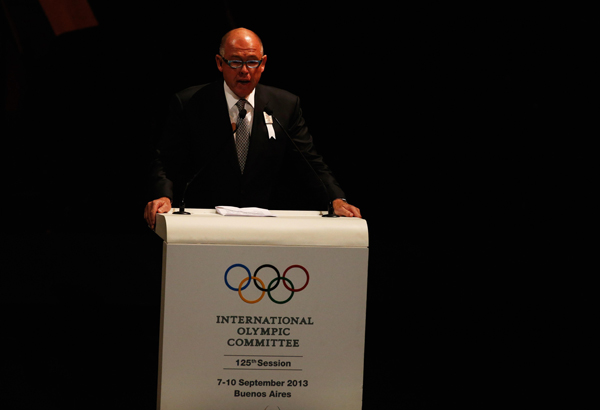 File photo shows Gerardo Werthein speaks at the Opening Ceremony of the 125th IOC Session at Teatro Colon on September 6, 2013 in Buenos Aires, Argentina. [Photo/VCG]
BUENOS AIRES - President of the Argentine Olympic Committee (COA), Gerardo Werthein, said Friday it is a "disgrace" that a two-time medal-winning team like the country's national soccer team "can't call upon its players" for the Rio Olympic Games.
"What a lovely image we will give (the world) that Argentina can't form a soccer team!," said the leader.
Werthein said this after the national team's coach, Gerardo Martino, announced he would have to delay the start of training by a week since he currently only has eight players available.
"(It is) a disgrace that an Olympic double-medal-winning team (Athens 2004 and Beijing 2008) are unable to call upon their players," Werthein said. He asked soccer clubs to collaborate by allowing their Argentine players to play in the Olympics.
"(Martino) has to wake up and realize that this can't be downplayed," said Werthein.
The COA president warned, "It would be good to start worrying about the sport. With this anarchy, this lack of leadership, what can we expect?"
Italy's Juventus announced that they would not allow Argentine forward Paulo Dybala to participate and England's Everton also refused to allow defender Ramiro Funes Mori to attend the sporting event.
The soccer tournament will be played between August 3 and 19 in the Brazilian cities of Rio de Janeiro, Salvador, San Pablo, Brasilia, Manaos and Belo Horizonte.
Argentina's first matches will be against Portugal on Aug 4, then Algeria on Aug 7 and Honduras on Aug 10.