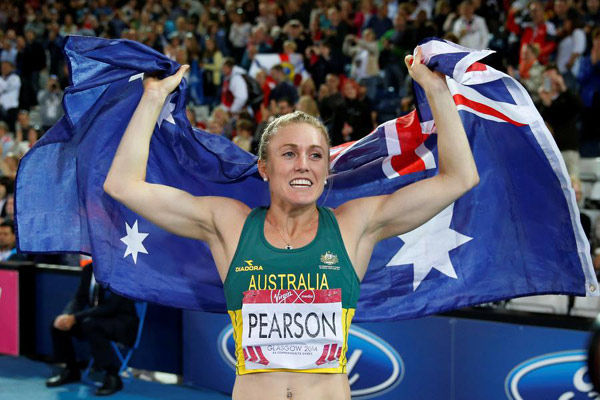 Sally Pearson of Australia celebrates after winning the gold medal in the women's 100m hurdles at the 2014 Commonwealth Games in Glasgow, Scotland, August 1, 2014. [Photo/Agencies]
CANBERRA - Sally Pearson, Australia's greatest Olympic track and field hope and defending 100m hurdles Olympic gold medalist, has been forced to pull out of the 2016 Rio Games after she tore her hamstring while training in Australia this week.
Pearson -- arguably one of Australia's most successful track runners of all time -- won the 100m hurdles gold medal in London in 2012 and the silver medal in Beijing in 2008, and was coming back from a wrist injury and achilles tendon complaint when she tore the hamstring while training.
The 29-year-old had returned to Australia in the lead up to the Games after she was unable to find strong form on the European circuit, but the timing of the hamstring injury means the hurdler will not be making the trip to Brazil.
She ran a number of sub-par performances in Europe earlier this year; in Birmingham she ran the disappointing time of 13.25 seconds -- well off her personal best of 12.28 seconds which she ran in 2011.
Her form didn't improve in Paris where she ran a 12.92, and then a 13.14 in Oslo forced her coach to make the decision to return to Australia to find form in training ahead of the crucial Olympics meet.
According to News Corp, Pearson will take time out from the sport as she recovers, but she is not contemplating retirement until at least after the 2018 Commonwealth Games, which are set to be held in her home town on the Gold Coast in Australia.