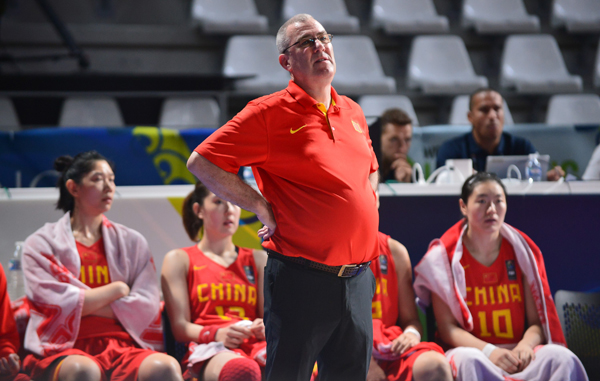 File photo shows Coach Maher Thomas of China during the FIBA Women's Olympic Qualifying Tournament between China and Venezuela at La Trocardiére in Nantes, France on June 17, 2016. [Photo/VCG]
BEIJING - Chinese women's basketball team aim for a top eight finish at the Rio Olympic Games, head coach Thomas Maher said on Monday.
The team held their first practice session on Monday since returning from France, where they clinched an Olympic ticket in the qualifiers.
"Today is the first day back, and we have to be back to routine. We've got a list of things we need to correct from the Olympic qualifiers, so today we address three of these things. We keep moving these things to improve our efficiency in the game," said Maher.
In Rio, China has been drawn in Group B, along with defending champions United States, Spain, Senegal, Serbia and Canada.
"Our target is to finish in the top eight. That's not easy," said Maher.
"We will try to win the gold medal, but obviously that's not a realistic goal. Our goal is to try hard every time and see what happens," he added.
China will fly to Canada on July 7 and play three warmup matches against the Canadian team, which they lost to 74-58 before the Olympic qualifiers.
"When we were playing against Canada, we were practicing against Venezuela, Belarus and Spain (in the Olympic qualifiers) and pretended that they are those teams.
"Now we will play our first Olympic game against Canada. That is the other way. Before we didn't spend our time preparing for Canada, but now we spend our time preparing for Canada. That's a big change, and that's a big effect," Maher said.