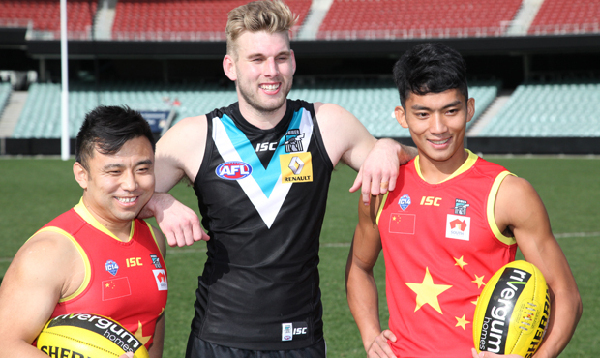 Port Adelaide footballer Jackson Trengove (middle) alongside Team China players, including Port Adelaide recruit Chen Shaoliang (right). [Photo provided to chinadaily.com.cn]
Australian rules football – the sport which attracted almost four million TV viewers in China earlier this year, but one which still garners confused responses whenever a foreigner dares mention it.
"Is it like American football? Or Rugby?"
Not even close.
But such is the nature of the huge sport-loving China market. One the Australian Football League – the sport's premier competition in Australia – is breaking into, defying all expectations.
It's a push led by one of its teams: the Port Adelaide Football Club. For the second time this year, a high-powered delegation is touring regions across southern China, to sell the game to business leaders and attract even more supporters.
"We want to make sure the people of China, and businesses wanting to invest in this venture, know that we're there for the long-term," Port Adelaide chief executive Keith Thomas told chinadaily.com.cn.
"We're looking to build the game in a real sense."
On April 23, more than 3.5 million people in China tuned in to CCTV5+ to watch Port Adelaide play Geelong – compared to just 858,386 viewers across Australia.
CCTV has since dramatically increased the number of games it will air – from just three, to one a week for the rest of the season.
While Thomas concedes the club needs to be "realistic" and that the 3.5 million viewers figure "isn't that big" in China, he says in an Australian context, it is.
"We were really unsure about what to expect, to be honest," he said.
"What was really good about that was at half-time it was three million ... so it means there is growth and interest."