LONDON - British Foreign and Commonwealth Office (FCO) on Tuesday urged football fans to be vigilant during Euro 2016 in France, warning the tournament could become "potential targets" for terrorist attacks.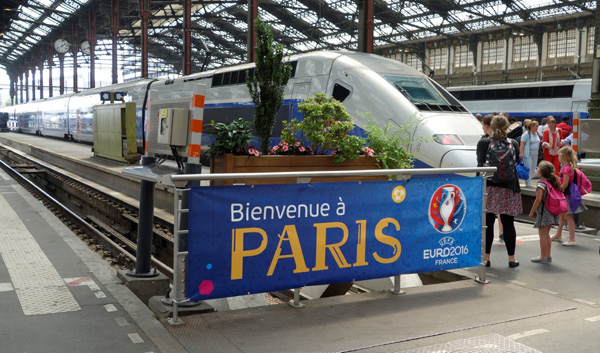 A welcoming banner for the Euro 2016 Championship is seen at the Gare de Lyon railway station in Paris, during a national railway strike by French railway unions workers from the France's rail-operator SNCF, France, June 7, 2016. [Photo/Agencies]
France is to host the Euro 2016 football tournament from Friday to July 10. The FCO said there is "a high threat from terrorism."
"Due to ongoing threats to France by Islamist terrorist groups, and recent French military intervention against Daesh (formerly referred to as ISIL), the French government has warned the public to be especially vigilant and has reinforced its security measures," the FCO said in its travel advice.
"During Euro 2016, stadiums, fan zones, venues broadcasting the tournament and transport hubs and links represent potential targets for terrorist attacks," the FCO warned.
The FCO urged football fans to be "vigilant at all times," especially in areas hosting Euro 2016 events.
A national state of emergency will remain in place until July 26, in order to cover the tournament period and other significant events like the Tour de France cycling race, according to the FCO.
Around 17 million British nationals visit France every year. While most visits are trouble-free, the most common problem reported is pick-pocketing, it said.