Seven-time Wimbledon champion Roger Federer is healthy again and looking forward to the grasscourt season.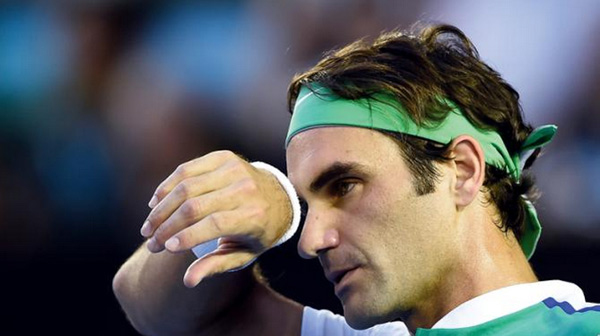 In this Thursday, Jan. 28, 2016 file photo, Roger Federer of Switzerland wipes the sweat from his face during his semifinal match against Novak Djokovic of Serbia at the Australian Open tennis championships in Melbourne, Australia. Swiss star Roger Federer has pulled out of the French Open because of concerns over the risk of injury.  [Photo/Agencies]
Federer is still without a title this year and has been battling injuries.
The former world No 1 underwent meniscus surgery after losing to Novak Djokovic in the Australian Open semi-finals, then missed the French Open because of a back injury.
The top-ranked Djokovic won his first French Open title on Sunday to complete a career grand slam.
"I feel much better again. It's been a good last three weeks. No setbacks," Federer said on Monday.
"My back's good again. I feel much stronger. I was pretty fragile three weeks ago.
"It's been a difficult year for me, to put it mildly. Now I am feeling really well. It's OK after all these years to miss a major."
Federer had played a record 65 straight Grand Slams since 1999.
The 17-time Grand Slam champion is the top-seeded player at the inaugural edition of the Mercedes Cup on grass in Stuttgart, Germany, and he has a bye into the second round.
"If I survive a couple of matches, when you are in the semifinals, you start thinking about the title," said the Swiss superstar.
"But to think now about the title would be a little premature. Now it's important to come back from injuries. That's really the only thing that matters for me."
While missing Roland Garros was a blow, a longer-than-usual rest and more preparation time on the grass could augur well for Federer's Wimbledon hopes as he seeks an 18th major, having lost in the final by Djokovic the past two years.
"It was much better for me to look forward to the rest of the season, the rest of my life, really," Federer said.
"I didn't want to have setback after setback and injure myself maybe further.
"In hindsight, that was definitely the right decision."
The 34-year-old said he was pleased about the opportunity to add another grasscourt event in the build-up to Wimbledon.
He is also scheduled to play next week in Halle, his traditional warm-up for Wimbledon, where he's won a record eight titles.
Federer, who is now ranked No 3, praised Djokovic's win in Paris, saying it was "super for tennis, world class."
"It was wonderful the way he did it," Federer said of Djokovic's triumph, which brought him to 12 Grand Slam titles.
"It was great for tennis."
Serena passes Sharapova as top earner
Serena Williams may have been second best at the French Open on Saturday but the American has moved ahead of fellow tennis player Maria Sharapova as the world's top earner among female athletes, according to Forbes magazine.
Williams ended the Russian's 11-year reign by hauling in $28.9 million in combined prize money and off-court earnings over the past 12 months, the magazine said on Monday.
Sharapova, who lost some sponsorship money after announcing she had tested positive for the recently banned substance meldonium at the Australian Open in January and is provisionally suspended, holds second spot at $21.9 million.
American mixed martial arts fighter Ronda Rousey shot up from eighth to third on the list at $14 million, just ahead of compatriot and NASCAR driver Danica Patrick, who earned $13.9 million, according to www.forbes.com.
The rest of the women's top 10 were also tennis players.
Poland's Agnieszka Radwanska ranked fifth at $10.2 million followed by Dane Caroline Wozniacki ($8 million), Spain's newly-crowned French Open champion Garbine Muguruza ($7.6 million), Serb Ana Ivanovic ($7.4 million), Victoria Azarenka of Belarus ($6.6) and Canada's Eugenie Bouchard ($6.2 million).