Kimbo Slice, one of the most recognizable names in MMA fighting, died Monday night at the age of 42.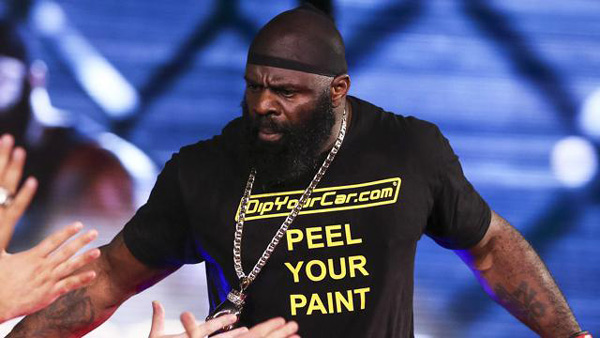 Kimbo Slice has been hospitalized and the situation is reportedly 'dire'. [Photo/Agencies]
The former Bellator star and Bahamian-born boxer was hospitalized for an undisclosed reason near his home in Coral Springs, Fla., earlier on Monday, where he had been in critical condition.
A cause of death was not confirmed, though multiple reports said Slice suffered heart failure.
"We are all shocked and saddened by the devastating untimely loss of Kimbo Slice, a beloved member of the Bellator family," Bellator MMA CEO Scott Coker said in a statement. "One of the most popular MMA fighters ever, Kimbo was a charismatic, larger-than-life personality that transcended the sport.
"Outside of the cage he was a friendly, gentle giant and a devoted family man. His loss leaves us all with extremely heavy hearts, and our thoughts and prayers are with the entire Ferguson family and all of Kimbo's friends, fans and teammates."
Slice's former training partner, Tyler Cook, shared pictures on Facebook of the two and said, "RIP to my man KIMBO SLICE love you man damn."
Slice, whose real name is Kevin Ferguson, last fought at Bellator 149 on Feb. 19, when he defeated Dhafir "Dada 5000" Harris, who claimed he suffered two heart attacks during the bout. The victory was later overturned and ruled a no-contest after Slice tested positive for a banned steroid.
Slice was a self-made celebrity, getting the attention of UFC after he became an internet sensation by posting backyard fight videos. In one of those fights, he left a large cut over an opponent's eye and his web fans gave him the nickname, Slice.
He was scheduled to headline Bellator 158 on July 16 in London against James Thompson.
Slice was 7-0 as a professional boxer and made professional wrestling appearances. He went 5-2(1) in sanctioned MMA fights with UFC, Bellator and Elite XC, losing his only UFC fight on May 8, 2010 in UFC 113.
Slice was engaged to long-time girlfriend, Antionette Ray, and he has six children — three girls and three boys.