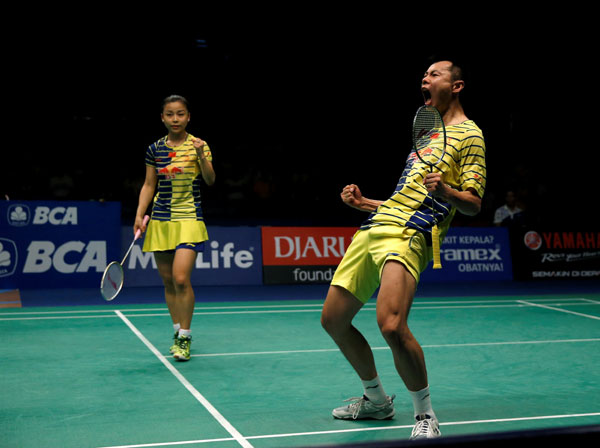 China's Xu Chen (R) and Ma Jin celebrate wining their match against South Korea's Ko Sung Hyun and Kim Ha Na.[Photo/Agencies]
JAKARTA - Chinese pair Xu Chen and Ma Jin successfully defended their mixed doubles title at badminton's Indonesia Open Super Series tournament on Sunday.
The Chinese duo defeated South Korean Ko Sung Hyun and Kim Ha Na 21-15, 16-21 and 21-13.
"We experienced difficulties in the match as the South Korean players played very fast. We were exhausted and committed many mistakes in the second set. We managed to regain control in the third game," Xu Chen told a press conference.
Xu said that they are now focusing on the upcoming Australia Open on June 7 through to 12 and then the all important Rio Olympics in August.
Earlier, Tang Yuanting and Yu Yang fell to Japanese pair Misaki Matsutomo and Ayaka Takahashi in the women's doubles final.
In the men's doubles final, China's Chai Biao and Hong Wei will take on South Korea's Lee Yong Dae and Yoo Yeon Seong.
2011 champion Wang Yihan would face Tai Tzu Ying from Chinese Taipei in the women's singles gold medal match.