CHANGCHUN - The Chinese Basketball Association (CBA) side Jilin Northeast Tigers announced on Saturday that they have signed former coach of the Chinese national team Bob Donewald Jr. as their head coach.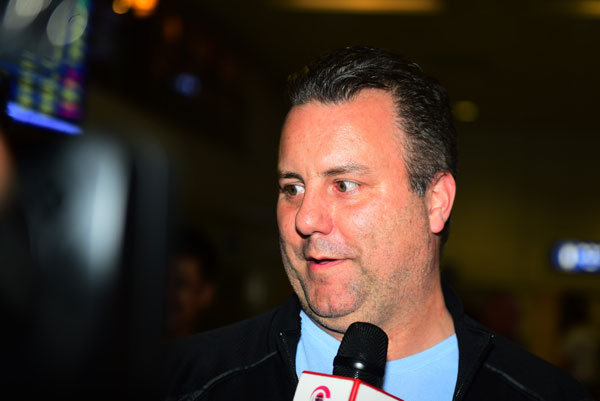 Bob Donewald Jr. receives interviews before he is appointed as head coach of Jilin Northest Tigers of CBA June 4, 2016. [Photo/Xinhua]
"I am very excited to be here," the 46-year-old told fans who gathered at the Changchun airport on Saturday evening carrying red roses and slogans such as "Welcome to Jilin, Laodeng!" Laodeng is the nickname of Donewald in Chinese, meaning old Donewald.
"You know last year I thought it was difficult for Jilin, we will improve it. But expectations are too early to talk about," he added.
Donewald, who coached both Shanghai and Xinjiang teams in CBA from 2009 to 2011, was also the head coach of the Chinese men's national team from 2010 to 2012, and helped China win two Asian titles in the 2010 Guangzhou Asian Games and 2011 Wuhan FIBA Asian Men's Basketball Championships.
Donewald left China after the 2012 London Olympic Games, where China lost five straight games in the group stage of the men's basketball tournament.
Last season, Jilin ranked penultimate in the CBA league, and the team hopes to do better in the upcoming season after signing Donewald.
"Bob is good at training young players and center forwards," said Han Shulun, a fan of Jilin team, "we hope Jilin can reach the play-offs next season."