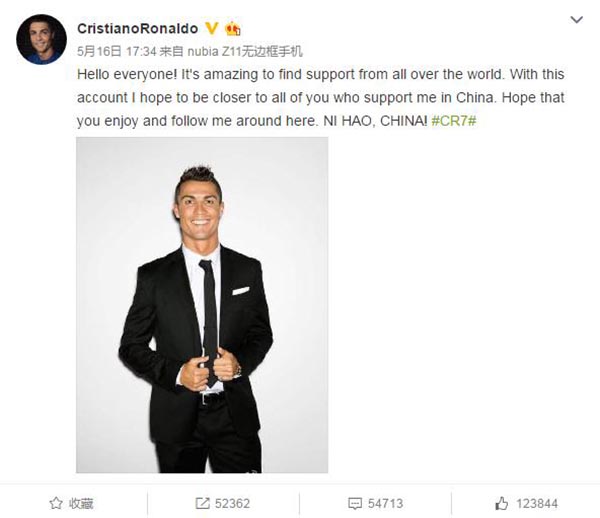 Portuguese soccer star Cristiano Ronaldo posts his first message on Sina Weibo. [Photo/weibo.com]
Cristiano Ronaldo, one of the biggest names in world's soccer, further extended his stardom to China by joining Sina Weibo, China's answer to Twitter.
The Real Madrid star needed less than one day to attract more than 280,000 followers after he posted his first message on Monday afternoon.
"Hello everyone! It's amazing to find support from all over the world. With this account I hope to be closer to all of you who support me in China. Hope that you enjoy and follow me around here. NI HAO, CHINA!" read his first message.
The three-time World Player of The Year already enjoyed a wide fan base in China before his official entry into Sina Weibo. Ronaldo, undoubtedly the face of Real Madrid, grabbed the spotlight during the team's off-season promotion tour to China last summer, eclipsing other big names of the star-studded Los Blancos.
Chinese fans were overwhelmingly delighted after this big gesture, rushing to leave emotional messages.
Weibo user Florencezzy said: "(I'm) so happy to see you are here! You are the best... Hope you (do) better and better! My hero."
Ronaldo's new account is his second on Chinese social media. In September 2011 he joined the relatively less-used Tencent Weibo, on which he sporadically posts. His archrival on the pitch, Barcelona's Lionel Messi, is also featured on the Tencent platform, but hasn't made his official presence on Sina Weibo yet.
What's also noticeable is that the first tweet indicated him using a ZTE Nubia smartphone. The Portuguese's arrival to the social network coincided with him reaching an agreement with the Chinese phone maker ZTE.
Well-tuned and market-savvy, the 6' 1" player is the natural choice of brands. The endorsement deal with Nubia, along with the Sina Weibo gig, however, rhymed with Chinese brands' increasing interest in the country's booming sports market. Extending on-court rivalry to off-court, Messi became the new face of Huawei, another major Chinese phone maker and ZTE's competitor.
It's not the first time that Sina has invited world-famous sportsmen to its platform. Ronaldo follows the footsteps of soccer players David Beckham, Robin van Persie and Mario Gotze. A-list European clubs, including Bayern Munich, Chelsea and Juventus, also opened official accounts for news release.
Ronaldo is expecting Real Madrid's 11th Champions League title as the Spanish giant sealed their place in the final with local rival Atletico Madrid in Milan on May 28.
Captaining Portugual, the 31-year-old will head to next month's Euro 2016 in France, his fourth and probably last European Championship campaign, eager for a major national level trophy that has evaded his stellar career.