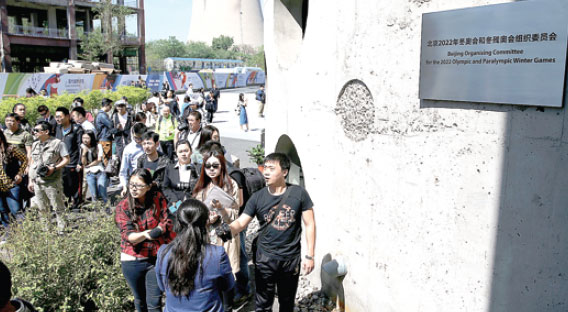 The Beijing Organizing Committee for the 2022 Winter Olympics opens to the media on Friday. It is located in the former Shougang Group production complex in Beijing. Wang Zhuangfei / China Daily
Beijing has started fulfilling its promise to host the 2022 Winter Olympics in a sustainable way by refurbishing an abandoned industrial complex to house the event's organizing committee.
At the dilapidated Shougang Group steel mill site, mine silos and corroded warehouses have been transformed into offices for 160 staff members of the Beijing Organizing Committee of the 2022 Olympic and Paralympic Winter Games.
In February, when all the renovations are finished, about 1,000 employees will settle in to prepare the 2022 Winter Olympics, according to committee officials.
The factory closed in 2010, when Shougang moved its steel plant out of the capital.
Its repurposing follows President Xi Jinping's call for a frugal approach to hosting the Games while complying with the International Olympic Committee's reform proposal, said Guo Huaigang, director of the committee's Secretarial and Administrative Department.
Liang Zongping, Shougang board director, said the resettlement and refurbishment presented the company an opportunity for reforming outmoded industry.
"We have started planning for the site's post-Olympics operation in winter sports entertaining and related service sectors," he said.
Liang said the old venues being refurbished have passed third-party environmental tests for safe use as offices.
Boasting existing facilities and organizing expertise from the 2008 Beijing Summer Olympics, Beijing, with co-host city Zhangjiakou, in neighboring Hebei province, won the rights in July 2015 to host the 2022 Winter Olympics at three venue clusters in downtown Beijing, the capital's northwestern Yanqing county and Zhangjiakou.
At an organization briefing in March, President Xi stressed that innovation, green-development and frugality and opening-up should be employed in Games preparations, in line with IOC proposals to reduce Olympics bidding and hosting costs.
The organizing committee, chaired by Beijing Party chief Guo Jinlong, will now focus on finalizing the designs of all facilities before construction begins on other venues and urban infrastructure later this year.
Liu Yuming, the committee's executive deputy director of the Planning, Construction and Sustainability Department, said foreign expertise in winter sports planning and operation is welcome.
"We don't have experience in developing a lot of outdoor winter events ... so we will cooperate with international executives and specialists to guarantee the preparation," Liu said.
Under Beijing's plan, ice events will be held at downtown Beijing venues, and only the National Speed Skating Oval will need to be built.
Four snow sports will be held at mountain venues in Yanqing, which will be developed into national training bases and public skiing and tourism centers.
All construction work is expected to be finished by the end of 2019, said Liu.
sunxiaochen@chinadaily.com.cn