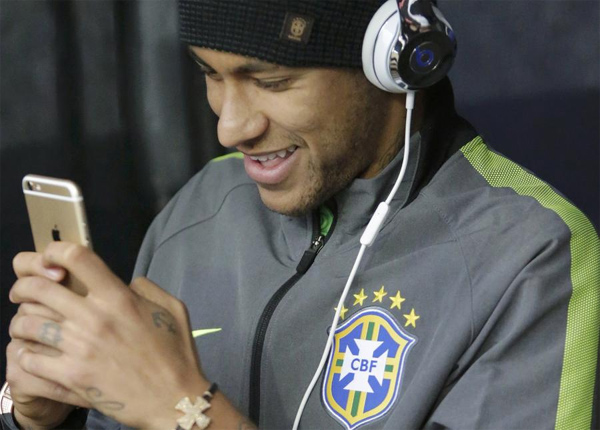 Brazil's Neymar, who is suspended for the rest of the tournament, uses his mobile phone as he arrives with his team for their first round Copa America 2015 soccer match against Venezuela at Estadio Monumental David Arellano in Santiago, Chile, June 21, 2015. [Photo/Agencies]
SANTIAGO - Brazilian national team captain and star player Neymar left the lineup in Santiago, Chile Monday to fly back to Sao Paulo after being suspended from four matches.
The decision to leave Chile, where the team is competing in the 2015 Copa America championship, came after Brazil decided not to contest the penalties imposed for Neymar's unsportsmanlike behavior on the field during the team's 1-0 loss to Colombia.
"Staying here just to train is killing me," Neymar posted online, saying he now wanted to be with his family.
"I ask my fellow teammates to forgive me for letting things get to this situation, but I'm sure that it has been another lesson in my career," added Neymar, who is considered the team's top player.
Neymar left with a prize for best player in the team's debut against Peru (2-1), in which he scored one goal and assisted in the other.
Brazil qualified for the quarterfinals of the Copa and stays on to train for Saturday's match against Paraguay.