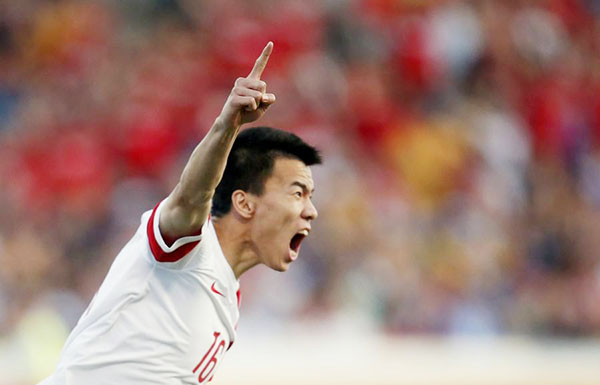 China's Sun Ke celebrates after scoring a goal against North Korea during their Asian Cup Group B soccer match at the Canberra stadium in Canberra in this January 18, 2015 file photo. [Photo/Agencies]
BEIJING - Chinese international Sun Ke has set a new transfer fee record for Chinese players on Thursday as the midfielder joined Tianjin Teda from Jiangsu Sainty on 66 million yuan RMB (10.6 million dollars).
Chinese Super League club Jiangsu Sainty confirmed on Thurday that the team's top star Sun Ke would leave the club to join Tianjin Taida on its twitter-like Weibo account.
"After a three-side discussion, we all agree the transfer deal. Sun Ke is going to play for Taida. Sainty is thankful for Sun's contribution for the club and hopes he has every luck in Taida," said Sainty.
Sun Ke would not represent Jiangsu in the weekend's league match. "Sun Ke will play for Tianjin since June 22, when the transfer window opens," Teda said.
"Sun Ke has a contract till 2020 in Teda and will be paid 8 million yuan RMB (1.2 million dollars) a year," a Teda official told Xinhua.
The previous record for Chinese players belongs to Yu Hai, another national team player, in 50 million yuan RMB (8 million dollars). Shanghai SIPG had paid the amount to introduce him from Guizhou Renhe in the early season.
Sun Ke had a splendid performance in the Australia Asian Cup in January. He had scored three goals in the tournament.
It's reported that Tianjin Teda will buy more top players. Dutch midfielder Wesley Sneijder and Brazilian Ronaldinho are on the list of Teda's targets.