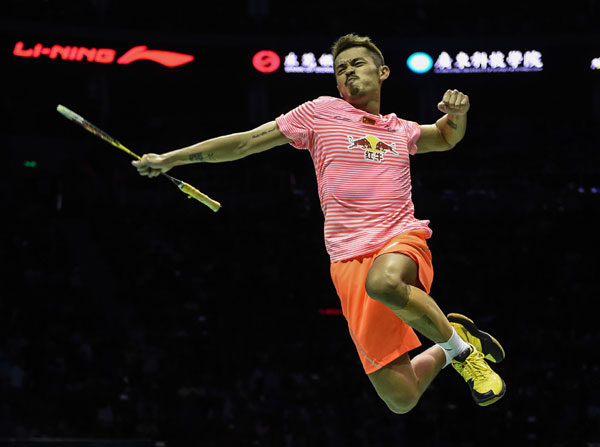 China's Lin Dan celebrates after winning the men's singles match against Japan's Takuma Ueda during the final at 2015 Sudirman Cup BWF World Mixed Team Championships in Dongguan, South China's Guangdong province, May 17, 2015. China beat Japan by 3-0 and claimed the title of the event. [Photo/Xinhua]
DONGGUAN, China - China's strength and depth proved too much for Japan as the defending champions clinched their 10th Sudirman Cup title with the 3-0 final win on Sunday.
The hosts met some challenges in the opening men's doubles but controlled the match throughout to achieve their sixth consecutive victory in this world team badminton championship.
When the iconic Lin Dan sealed the victory with a powerful smash, Chinese players hugged and applauded, arousing thunderous cheers from a packed arena at the Dongguan Sports Center in Guangdong province.
"The competition is fiercer than expected. I fought to the end and I did it, " said Lin Dan, the dual Olympic champion.
The Sudirman Cup, launched in 1989 as one of the most prestigious tournaments in badminton, witnessed China take first their trophy in 1995.
In the past 20 years, only South Korea had won once - in 2003.
On Sunday afternoon, Hiroyuki Endo/Kenichi Hayakawa, the world No.6 men's doubles pair, raised early hopes of an upset after fighting back to win the second set. But the rest of the challenge failed to measure up as China's leading duo Zhang Nan/Fu Haifeng nailed it 21-17, 20-22, 21-17.
In all five disciplines, men's doubles is relatively a weak one for China.