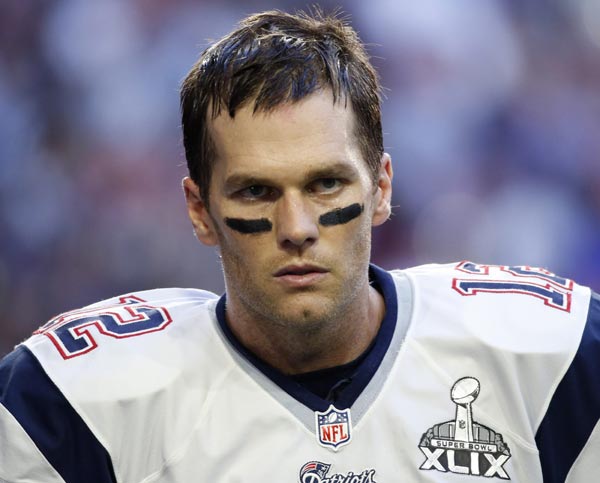 New England Patriots quarterback Tom Brady warms-up ahead of the start of the NFL Super Bowl XLIX football game against the Seattle Seahawks in Glendale, Arizona, in this file photo taken Feb 1, 2015. [Photo/Agencies]
NEW YORK - The NFL came down hard on its biggest star and its championship team, telling Tom Brady and the Patriots that no one is allowed to mess with the rules of the game.
The league suspended the Super Bowl MVP Monday for the first four games of the season, fined the New England Patriots $1 million and took away two draft picks as punishment for deflating footballs used in the AFC title game.
"Each player, no matter how accomplished and otherwise respected, has an obligation to comply with the rules and must be held accountable for his actions when those rules are violated and the public's confidence in the game is called into question," NFL executive vice president of football operations Troy Vincent wrote to Brady.
The Patriots lose next year's first-round pick and a fourth-round choice in 2017.
Brady would miss the season's showcase kickoff game on Sept 10 against Pittsburgh, then Week 2 at Buffalo, a home game against Jacksonville and a game at Dallas. He will return the week of a Patriots-Colts AFC championship rematch in Indianapolis.
He would be replaced by Jimmy Garoppolo, a 2014 second-round selection from Eastern Illinois who won the Walter Payton award as the best player in the FCS. He has thrown 27 NFL passes, including one touchdown.
Brady has three days to appeal the suspension to Commissioner Roger Goodell or his designee. His agent, Don Yee, said "the discipline is ridiculous and has no legitimate basis" and that Brady will appeal.
"And if the hearing officer is completely independent and neutral, I am very confident the Wells Report will be exposed as an incredibly frail exercise in fact-finding and logic," Yee said in a statement.
The Patriots said in a statement they thought the punishment was too severe.
"Despite our conviction that there was no tampering with footballs, it was our intention to accept any discipline levied by the league," the statement said.
"Today's punishment, however, far exceeded any reasonable expectation. It was based completely on circumstantial rather than hard or conclusive evidence.
"Tom Brady has our unconditional support. Our belief in him has not wavered."
On Monday, the Patriots also postponed this week's previously scheduled media availability with their rookie draft class.
The league also indefinitely suspended the two equipment staffers believed to have carried out the plan, including one who called himself "The Deflator."