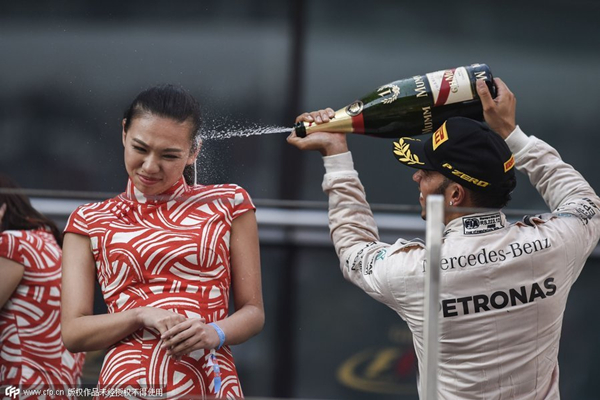 Lewis Hamilton celebrates winning the Chinese Grand Prix by spraying a hostess in the face with champagne on April 12, 2015. [Photo/CFP]
Formula One world champion Lewis Hamilton's victory in the recent China Grand Prix has taken an ugly twist, with his way of celebration being criticized as sexist.
In online footage of the event, which was held on April 12 in Shanghai, Hamilton appears to spray an oversized bottle of champagne on one hostess standing near him on the winner's podium. The British driver also sprayed other drivers and they returned the favor.
Watch the footage below.
Closer photos show the hostess was sprayed straight in the face and obviously did not enjoying the sudden "attack".
The photos soon sparked controversy both in the driver's home country and China, with some commentators accusing him of sexism.
In a report, Hamilton was called an "ungallant loser" by UK newspaper Daily Mail. Some Twitter users were quoted in the report criticizing him as "an embarrassment to the UK" and "an ignorant clown".
Roz Hardie, chief executive of anti-sexism campaign, Object, told Daily Mail that the images "appear to show that the woman is not just being splashed, but that the champagne is being very specifically directly into her face, which does not look like a voluntary piece of horseplay on her part. If this is the case we think Lewis Hamilton should apologize for his actions."
Many Chinese netizens were also offended by the 30-year-old champion, urging him to apologize for his antics.
On Sina Weibo, one user posted that the behavior may not have meant ill-intent, but Hamilton should apologize as long as the hostess felt uncomfortable.
"This is very rude. He has no right to celebrate his victory by bullying others", wrote @Dengdai.
However, there are also netizens defending the driver, saying his behavior was not uncommon in past F1 races.
"Spraying champagne is just a means to share victory and anyone present at such occasions should expect this", said @chuyu.
It is not the first time that Hamilton has celebrated victory in the same manner.
The racing star was seen spraying hostesses after his fourth consecutive win in the 2014 Spanish Grand Prix and at the 2014 Austrian Grand Prix, where he lost out on the top spot.
Hamilton was even asked to demonstrate his champagne skills on a talk show in 2013.