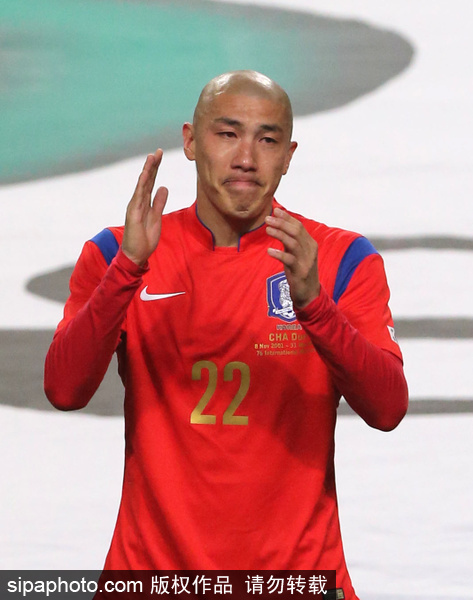 South Korean footballer Cha Du-ri sheds tears during a ceremony at Seoul World Cup Stadium to mark his farewell to international football, March 31, 2015  Cha a forward-turned-defender made his international debut in 2001 as a collegiate player. He represented South Korea at FIFA World Cups in 2002 and 2010 and reached the knockout stage at both tournaments. [Photo/SIPA]
SEOUL - South Korean defender Cha Du-ri retired from international football on Tuesday, putting an end to his 14-year-long career as a South Korean national team member.
The 34-year-old Cha capped for South Korea in two World Cups, including the 2002 event in which South Korea made into the semifinals. He played as many as 76 matches for the Asian football powerhouse.
"Your love and support is beyond my expectation," said Cha.
"I did my best through these years, and I retire as a happy man."
South Korea edged New Zealand 1-0 in Cha's last international match.