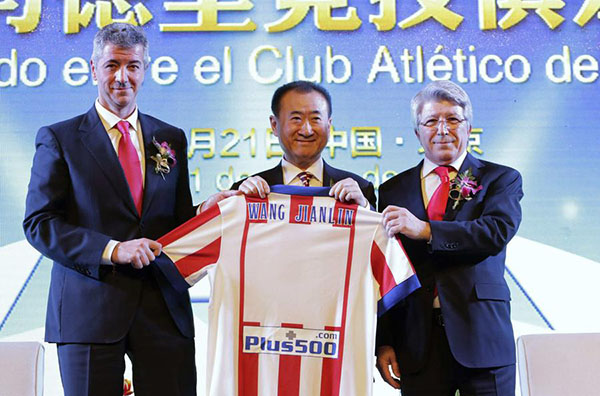 Wang Jianlin (C), chairman of Dalian Wanda Group, holds an Atletico Madrid jersey with his name, to pose for a photo with Atletico Madrid's President Enrique Cerezo (R) and managing director Miguel Angel Gil after a signing ceremony in Beijing in this file photo dated to January 21, 2015. [Photo/Agencies]
BEIJING - China's leading conglomerate Dalian Wanda has acquired Swiss sports marketing company Infront Sports & Media just three weeks after its purchase stakes of Spanish La Liga champions Atletico Madrid.
The Chinese real estate and entertainment giant Tuesday announced the deal which is valued at about 1.2 billion U.S. dollars.
Wang Jianlin, chairman of Wanda Group, expected the new acquisition will help pave the way for Wanda to become a global force in sports industry.
"This acquisition of Infront will significantly increase the future impact of the Wanda Group in the culture and entertainment industry and will also drive the development of Chinese sports industry and its interest around the globe," said Wang.
Related: