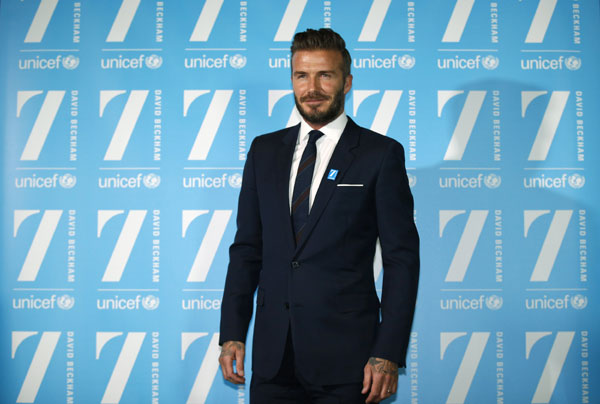 David Beckham attends a press conference to mark his 10 years as a UNICEF Goodwill Ambassador, at Google's headquarters in central London, February 9, 2015. Beckham announced the launch of a new fund, "7: David Beckham UNICEF Fund", named after his old shirt number.[Photo/Agencies]
LONDON - Footballing legend David Beckham pledged to change the lives of millions of children on Monday as he launched "7", a new fund with UNICEF to protect the world's most vulnerable youngsters.
"Over the coming years I am going to work with UNICEF to raise millions and speak out for children all over the world," said Beckham.
The fund -- named after Beckham's lucky number on his England and Manchester United shirts -- will focus on children at risk of violence, abuse or disease.
"Today, the need to help children has never been greater and since retiring I have more time and I want to do so much more," said Beckham, who is marking 10 years as a good will ambassador for the UN Children's Fund.
"Everything I have done, my football career, my family, has led to this point - this is the moment for me to do what I can to help children in every corner of the world. This is something I want my own children to be proud of," added Beckham, a father of four.