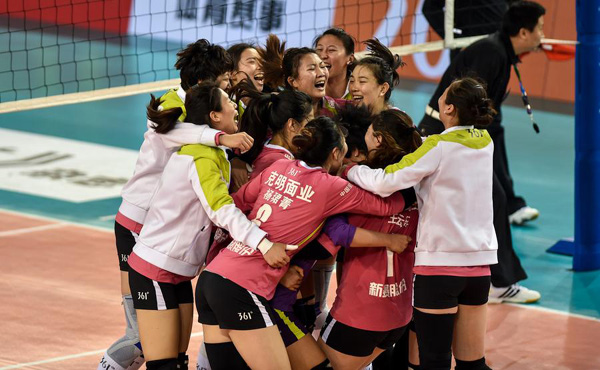 Players of Bayi celebrates after defeating Shanghai 3-1 in the best-of-five finals to claim their first league title in 13 years, in Shenzhen, Feb 3, 2015. [Photo/Xinhua]
BEIJING - Despite the pull out of Guangzhou Evergrande, the Chinese women's volleyball league still saw a boost in 2014-2015 season. Without any overseas players, Bayi defeated Shanghai 3-1 in the best-of-five finals on Tuesday to claim their first league title in 13 years.
"It is a payback for our hardwork during the whole year," said Bayi's headcoach Yu Juemin, "I want to thank my players, for their great tenacity throughout the season."
"I think this is the most competitive season in recent years. Any team who entered the final eight could have the chance to win the title," he added.
The Chinese women's volleyball league has been attracting serious attention in 2009 as real estate giants Evergrande invested hugely in the Guangzhou club to usher in a new era. "Iron Hammer" Lang Ping was appointed the head coach of Evergrande and led the team to the finals three seasons in a row and claimed the championship in 2011-2012 season as well as the title of the Asian Club Cup in 2013.
Just before the start of the 2014-2015 season, the Evergrande announced they quitted the volleyball league and focused on the China soccer Super League, but the leaving of the Evergrande had less impact on the volleyball league as estimated. Powerhouses as Bayi, Shanghai, Jiangsu still enjoyed prosperity.
"It is a pity that Evergrande decided to quit the volleyball league, they set up a good example for all Chinese clubs," said Yue Jinku, manager of the Liaoning, "but following the Evergrande, many clubs began to hire foreign players. You can see there are more and more foreign players playing in the league."
According to Li Quanqiang, deputy director of the Chinese volleyball administrative center, the season of 2014-2015 was considered an eventful one for Chinese volleyball, as there are much more young players have emerged than before.
Li was especially impressed by the young players like teenager stars Yuan Xinyue and Wang Yunlu. The 19-year-old Yuan, Bayi's middle blocker for the second season, was named the Best New Player of the Year.
"We found that many young players came out this season and they showed great potential on court," said Li. "After the 2012 London Olympics, it was a big worry that we could not find good young players to recruit into the national team, but after this season, I am happy to see the situation changed greatly."
He also said that the volleyball league is in fine health although the professionalization process moved slowly.
"The young players have improved very quickly and I think they will help bring a brighter future to our league. Of course, the acceleration of professionalization and improving the attraction of the league were proposed, we all hope for that."