BEIJING - Dongguan beat defending champion Beijing 112-104 to grab the final place in playoff of Chinese Basketball Association (CBA) league on Sunday and sent Xinjiang home.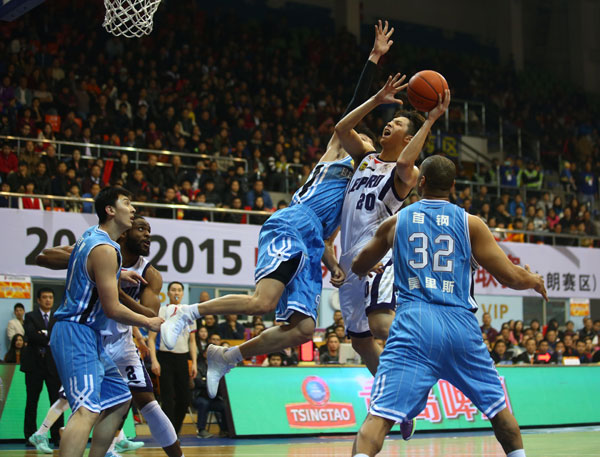 Dongguan's He Zhongmian (No. 20) goes up for a shot during a game against Beijing in the final round of the CBA regular season in Beijing February 1st, 2015. [Photo/Xinhua]
Xinjiang, runner-up to Beijing in last season's finals, failed to make into the top eight although it beat Foshan at 129-103. Xinjiang was double killed by Dongguan in the regular season, who shared a same 25-13 record.
A 37-24 third-quarter helped Dongguan coming from behind to beat Beijing, who led by 11 points by halftime. Bobby Brown scored 15 of his game-high 46 points in the third quarter to lead Dongguan. Ike Diogu added 31.
Randolph Morris led Beijing with 36 points and 11 rebounds while Stephon Marbury finished with only 9 points but eight assists.
Dongguan will play against Guangdong in the first round of playoff, which will start on Friday. Guangdong's 26-game winning streak ended as they lost to Guangsha 119-125, which is coached by Guangdong's former head coach Li Chunjiang. But the 34-4 result still rewarded Guangdong the top place in standings.
Beijing, who finished fourth, will play against Jilin, who beat Jiangsu 113-97. Second-placed Liaoning will play against Guangsha while the other quarterfinal will be played between Shanxi and Qingdao.
Liaoning beat Fujian 115-107 while Shanxi defeated Sichuan 117-100. Qingdao beat Tianjin 135-119 to secure the third place.
In Sunday's other matches, Shanghai thrashed Chongqing by 110-66. Bayi beat Zhejiang 131-116. Tongxi lost to Shandong at 109-120.