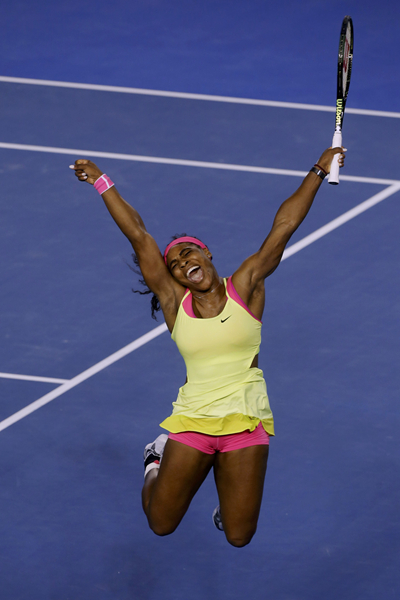 Serena Williams of the U.S. celebrates after defeating Maria Sharapova of Russia in their women's singles final match at the Australian Open 2015 tennis tournament in Melbourne January 31, 2015. [Photo/Agencies]
MELBOURNE - Serena Williams stuck out a fist in mock triumph and mouthed "C'mon," careful not to push her point too far.
The 33-year-old Williams was closing in on her 19th Grand Slam singles title, her 16th straight win over Maria Sharapova and her sixth Australian Open championship when she was docked a point by the chair umpire for hindrance - for yelling in celebration too early when she thought she'd hit a service winner.
She didn't let that, or another early celebration on match point, or a hacking cough that made her sick, become distractions. Instead, Williams maintained her composure to beat Sharapova 6-3, 7-6 (5) on Saturday night to continue her 100 percent record in finals at Melbourne Park and move closer to Steffi Graf's record of 22 major titles in the Open era.
"I got too excited and I hit a great serve ... I didn't expect her to get it back," Williams explained of the hindrance call in the seventh game of the second set. "I said, 'C'mon', a little too soon. I guess there's a rule that you can't do it. So I'm fine with it. I moved on very fast to the next point; just tried to stay as focused as I could."
The muted fist pump, she said, was just for fun.
"I'm like, 'C'mon.' It just goes to show you I have more fun on the court. I would have never done that three years ago, four years ago," said Williams, who has let similar calls upset her in the past. "So I just kind of made a little sarcasm after that."
On her third match point, she let her racket go before hearing a let call to what she thought was an ace.
"I thought, 'Wow this is it, I did it,' only to hear let. I was like, 'OK Serena!'" she said.
So she fell back on her biggest weapon, firing another ace - her 15th of the set and 18th of the match. This time, after checking it was official, she bounced around like a little child and the celebration was real.
"I'm so honored to be here and to hold this 19th trophy," Williams said. "I didn't think it would happen this fast, to be honest, but it feels really good."
Williams, at 33 years and 127 days, became the oldest winner of the Australian women's title in the Open era and moved into outright second place on the list of major winners in the Open era, moving clear of Chris Evert and Martina Navratilova on 18.
No. 20 is her next objective, and her next chance is at the French Open.