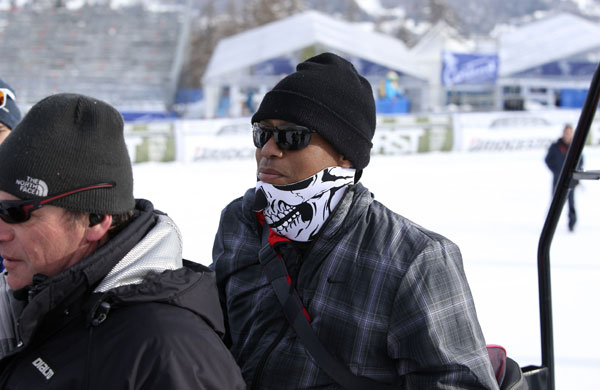 US golfer Tiger Woods sits on a snow bike during the women's World Cup Super-G skiing race in Cortina D'Ampezzo January 19, 2015. Woods' girlfriend, Lindsey Vonn, became the most successful female in Alpine skiing World Cup history when she won a Super-G on Monday, her 63rd victory in the competition. [Photo/Agencies]
CORTINA D'AMPEZZO, Italy - World Cup ski champion Lindsey Vonn is backing boyfriend Tiger Woods' account of how he lost a front tooth.
One day after winning her record 63rd World Cup race, Vonn posted to her Facebook account Tuesday that she was happy Woods surprised her by coming to the race, and that she felt ``terrible that his tooth got knocked out."
"When he was in the finish area a cameraman accidentally knocked into him and took out his front tooth," Vonn wrote. ``He was still in great spirits though and didn't complain once or ask for any special assistance or security. We were both just happy to share the moment together."
Vonn told USA Today in a phone interview: "I didn't see it happen, but I guess some photographer hit him in the face with a camera and it totally knocked his tooth out."
Woods missing a tooth created a sensation Monday after the race.
Mark Steinberg, Woods' agent at Excel Sports Management, said in an email that during a crush of photographers at the awards podium, "a media member with a shoulder-mounted video camera pushed and surged toward the stage, turned and hit Tiger Woods in the mouth. Woods' tooth was knocked out by the incident."