CANBERRA - Fresh, young squads that are breaking in a new generation of footballing talent are the hallmarks of both Australia and China at the 2015 AFC Asian Cup.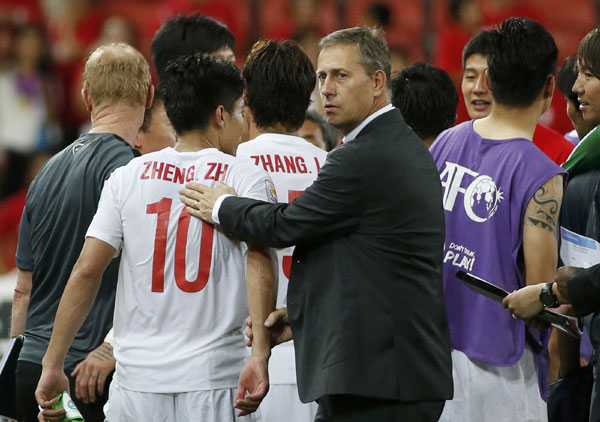 China's coach Alain Perrin (C) pats player Zheng Zhi on the back after their Asian Cup Group B soccer match win over Uzbekistan at the Brisbane Stadium in Brisbane January 14, 2015. [Photo/Agencies]
But while both Ange Postecoglou and Alain Perrin's tactical reshapes have been somewhat forced upon them, they have been for differing reasons.
Postecoglou arrived as Australia manager in the latter stages of 2013, charged with the task of ushering out the old and nurturing in the new.
The Socceroos'golden generation that graced the 2006 FIFA World Cup was in vital need of reinvigorating and Postecoglou, fresh off back-to-back A-League titles with Brisbane Roar, appeared the ideal man for the job.
The 2014 World Cup may have been a disappointing one, with Australia failing to pick up a single point, but there was an acceptance of results back home, with the footballing public able to understand Postecoglou was building towards a better future.
It's a future that is now coming to fruition and, following 4-1 and 4-0 victories over Kuwait and Oman respectively to begin the tournament, Australia is beginning to reap the benefits.
Perrin, meanwhile, was appointed China manager less than a year ago. However, unlike Postecoglou, he wasn't given the role of refreshing an aging side. Instead, he was handed the task of establishing an entirely new legacy.
Despite qualifying for 11 straight Asian Cups, China has never won the title. Furthermore, it has qualified for just one World Cup campaign in the last 64 years.
Perrin's job was to therefore translate China's booming population and its fantastic sporting record in global tournaments, such as the Olympics, to the football stage. So far, he is achieving far more than expected.
Victories over Saudi Arabia and Uzbekistan were against the odds, while a comfortable win over DPRK meant they eased through initial stages of the tournament as the Group B leader.
Now they will meet Australia in Brisbane in what is a highly anticipated clash and a contest that does have its history.
While Australia's defeat to South Korea in their final group match of the Asian Cup group stages may have denied the Socceroos top spot in Group A and a quarter final in Melbourne, it does give the side a chance to rekindle a blossoming rivalry with China.
Although the two sides have met just three times in the last six years, the match in Brisbane on Thursday is bound to be an affair with plenty riding on the outcome.
At national level, Australia has failed to beat its Chinese counterparts in their last three meetings, with China recording successive victories over the Socceroos.