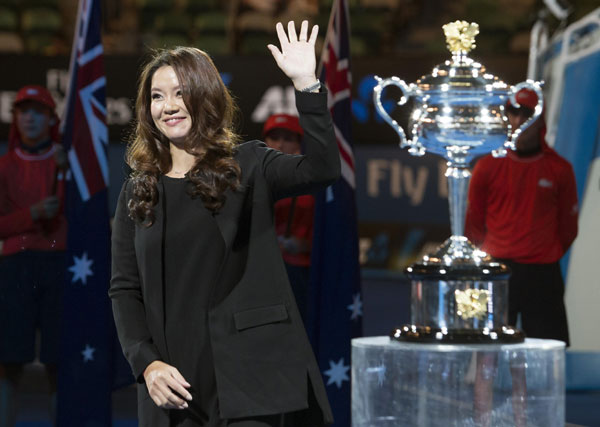 Current Australian Open tennis champion China's Li Na waves to the crowd as she stands next to the women's singles trophy during an official ceremony on Rod Laver Arena at Melbourne Park January 19, 2015. Retired Australian Open champion Li told the centre court crowd at Melbourne Park on Monday that she was expecting her first child with her husband and former coach Jiang Shan. The Australian Open tennis tournament begins on January 19. [Photo/Agencies]
MELBOURNE - China's two-time Grand Slam champion Li Na is excited about starting a family with husband Jiang Shan after announcing her pregnancy at the Australian Open.
On Monday, when officially opening the tournament which she won in 2014, Li shocked the crowd with her baby news.
She said on Tuesday that she had waited since November to reveal the news at the place she had won her second Grand Slam.
"Melbourne, for me, is a special area so I know this is a big moment for me," Li said in a press conference.
"I wanted to speak to all my fans, my friends.
"When I (found out), I was feeling this is the best gift I got. "
After making the tough decision to retire following chronic injuries, Li said she was looking forward to becoming a housewife.
"It is my dream to be a housewife. I think every child learns from the family," said the woman from China's central Wuhan province.
"I learnt from my mum, so I felt the woman has to be the housewife.
"But I guess I'm not bad at playing tennis."
Li retired in September last year, only seven months after reaching the number two ranking.
Now, besides motherhood, she is focused on choosing a location for her tennis academy, the first in China.
"Right now, the Chinese are very interested in tennis. When I said I wanted to have a tennis academy, all of China invited me," she said.
"Now, I have many choices."
Li also endorsed Japan's Kei Nishikori to take her mantle as Asia's tennis ace.
"I saw him play (the US Open) final on TV," Li said.
"I think he is an amazing player. It is not easy to be in the top.
"I know how hard working he is so I believe he can win a Grand Slam. Seriously."
On the lighter side, the media favorite has not stopped her joking since retirement.Asked whether, in another life, she would choose to be a tennis player, Li said yes.
"I will still choose tennis," she said, before adding with a smile, "I would still choose being a famous Asian as well."