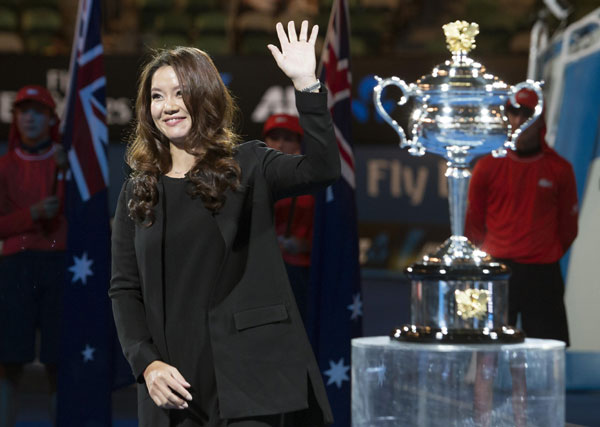 Current Australian Open tennis champion China's Li Na waves to the crowd as she stands next to the women's singles trophy during an official ceremony on Rod Laver Arena at Melbourne Park January 19, 2015. Retired Australian Open champion Li told the centre court crowd at Melbourne Park on Monday that she was expecting her first child with her husband and former coach Jiang Shan. [Photo/Agencies]
Reigning Australian Open champion Li Na and husband Jiang Shan are expecting their first child.
The retired dual Grand Slam winner announced her pregnancy at Rod Laver Arena, where she claimed the title a year ago, during a ceremony ahead of the night session on Monday's opening day of the tournament.
"This summer, Jiang Shan and I expect our first child," Li said, joking that her husband had got her pregnant quickly, "he just made one ace."
Li later posted a message on Facebook saying she chose to make the big announcement at Rod Laver Arena because of the special connection she felt with the Australian crowd during her two runner-up finishes at Melbourne Park in 2011 and 2013 and her title run last year.
"I was no longer alone out there fighting my opponent (and sometimes myself); today it felt like I was in the company of my 15,000 friends," she wrote. "And it really feels like this baby is going to enter the world already having about 15,000 friends."
"We can't wait to become parents and start this new chapter together," she wrote.
Speculation surrounding her pregnancy had been rife since she appeared during the WTA Shenzhen Open earlier in January as media and fans noticed she was wearing a baggy dress and sneakers during ceremonies.
The Chinese sports idol shocked fans by hanging up her racket due to chronic injuries in September, on the eve of a tournament in Wuhan, her home city.