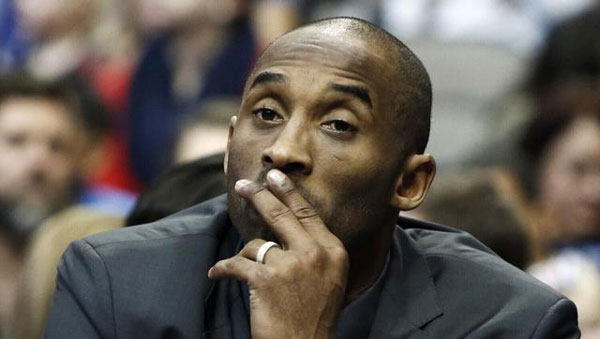 File photo of Kobe 
Kobe Bryant has another year left on his contract with the Los Angeles Lakers, but he admits that his age and injuries and the Lakers struggles have him considering retirement after this season.
Even though that would mean leaving $25 million on the table. He explained his mindset to Bill Plaschke of the Los Angeles Times.
"I'd be lying if I said that it hasn't crossed my mind," he tells the Times. "Right now I doubt it...but anything's possible."
He emphasizes the right now (because, right now, the reality is so muddled and difficult that even the Black Mamba is having trouble wrapping his mind around it).
"My body is hurting like crazy, around the clock, and if I don't want to do this anymore, I won't do it," he says.
It seems hard to believe and Bryant himself admits he's playing a mind game, too.
"I love figuring stuff out," Bryant says. "I don't know what's going to happen in the future, I don't know if I'm going to play an extra [next] year, but while I'm playing, I want to be able to figure this stuff out."