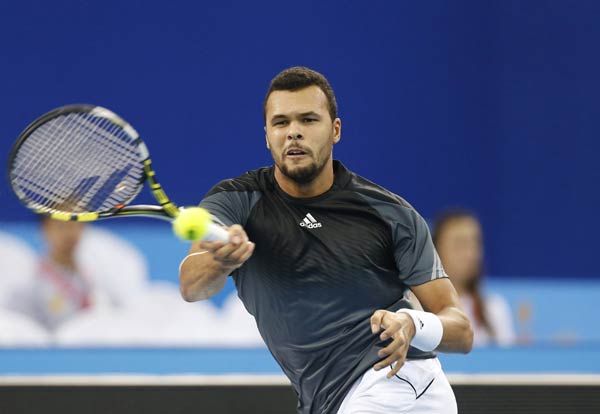 Manila Mavericks' Jo-Wilfried Tsonga of France his a return to Micromax Indian Aces' Gael Monfils of France during their match at the International Premier Tennis League (IPTL) in Dubai December 12, 2014. [Photo/Agencies]
PARIS -- France's top tennis player Jo- Wilfried Tsonga has been modeled in a 10-page spread for the latest French edition of Gentlemen's Quarterly magazine.
The world No 12 said he's always been interested in fashion and it was an exciting chance to work with the creative team at GQ and an opportunity he relished.
"For me, it's something positive," said the 29-year-old. "I'm really happy to do that and be on the other side as a man."
The photo shoot was actually taken in Paris in October.
"Sometimes I'm able to buy magazines like GQ," said Tsonga. ""I like to dress fashionably, it's great. I think GQ is the best magazine for me in terms of fashion for men."
He compiled a 36-19 match record in 2014, highlighted by winning his second ATP World Tour Masters 1000 title in Toronto, beating Novak Djokovic, Andy Murray, Grigor Dimitrov and Roger Federer in succession.
During the Davis Cup final where France taking Switzerland in Lille, Tsonga lost to Australian Open champion Stan Wawrinka before the hosts were defeated 3-1 by Roger Federer's Swiss team.