German club Wolfsburg stepped up its efforts to lure Chinese fans following its first Chinese recruit – Zhang Xizhe.
Bundesliga's official website published a detailed introduction about the former Beijing Guo'an playmaker, titled "Ten Things about Zhang Xizhe", giving German fans a close look at the newcomer.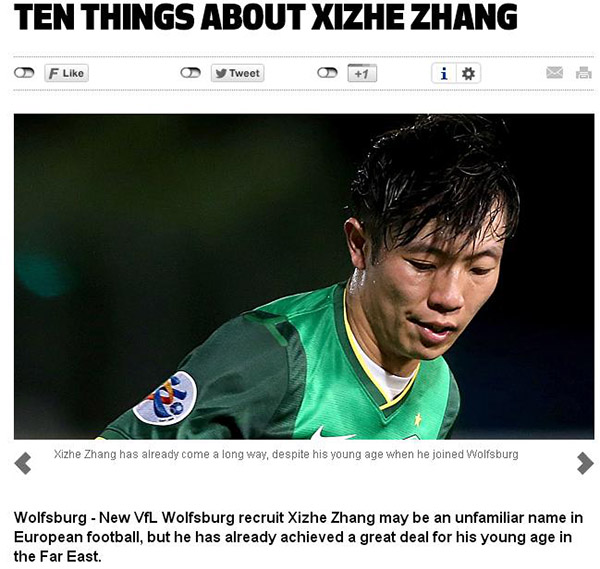 Praising Zhang as a "talented midfielder", the article is positive about Zhang's new career in Germany, saying his "elegant" playing style is "tailor-made for Bundesliga."
Zhang arrived in Germany on Sunday and showed up at a Wolfsburg match against Paderborn.
Zhang, 23, scored six goals in 29 Chinese Super League appearances for Beijing last season.
Wolfsburg is currently standing second only to Bayern Munich in Germany's first-tier league and on its way to enter the Champions League next season.
Zhang's signing is part of the club's expansion in Chinese market as it already has official accounts on microblogging site Sina Weibo and online video streaming service Youku.
Previous reports also linked Zhang's signing to Wolfsburg's major sponsor Volkswagen AG, a troubled automaker keen to clean up its image and boost sales in China amid monopoly investigations and massive recalls.