Spanish striker Fernando Torres could never have imagined he would one day be unwanted.
Six years ago it was a very different story.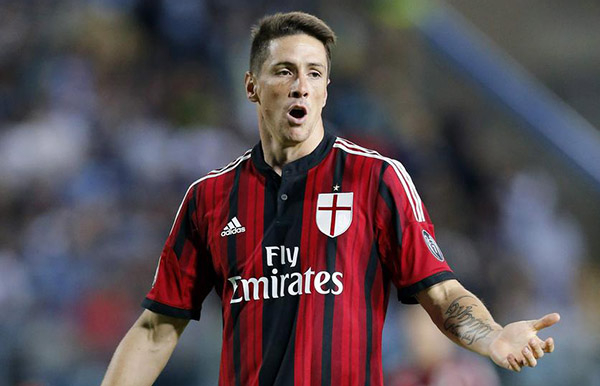 He scored the winner in the Euro 2008 final that secured his county's first European championship in 44 years. The speedy, goal-hungry Torres managed to easily bypass German defenders before steering an assist from Xavi Hernandez into the net.
The then 24-year-old lived up to his nickname "El Nino", so named for his boyish yet delicate facial features and prodigious talent. Young and ambitious, he became the brightest star in the Spanish national squad after his priceless goal. At Liverpool he won over both fans and then manger Rafa Benitez who brought him in from his boyhood club Atletico Madrid.
One could easily recognize Torres in his golden era, a blond youngster unstoppable on the pitch, scoring and celebrating with a broad grin.
Fans expected him to continue delivering such magical moments after his move to Chelsea in 2011 for a record British transfer fee of £50 million, only to be disappointed. What they saw instead was a fragile player who missed countless unmissable scoring chances and became an expensive bench-warmer.
Failing to maintain the form suggested by his price tag, Torres was loaned to AC Milan six months ago in a move that could have seen his self-redemption but instead put him in an embarrassing position.
Torres didn't fit into the Serie A rhythm, with only one goal in 10 appearances, making the impatient Italians determined to cut short his two-year loan term and return him to Chelsea.
But Chelsea don't want the burden back. The Stamford Bridge faithful are basking in a honeymoon period as their team goes smoothly in pursuit of both domestic and continental honors. Chelsea manager Jose Mourinho denied any chance to take back the player, according to ESPN UK.
The good news for Torres is that not all clubs are as ruthless. Liverpool manager Brendan Rogers, Napoli coach Benitez, and Atletico boss Diego Simone are all reportedly willing to give him a chance when the January transfer window opens.
Whichever option Torres eventually takes - either back to Anfield, to reunite with former mentor Benitez or to settle with Atletico which he captained at the age of 19 - time is running short for the 30-year-old to repay those who still believe in him.