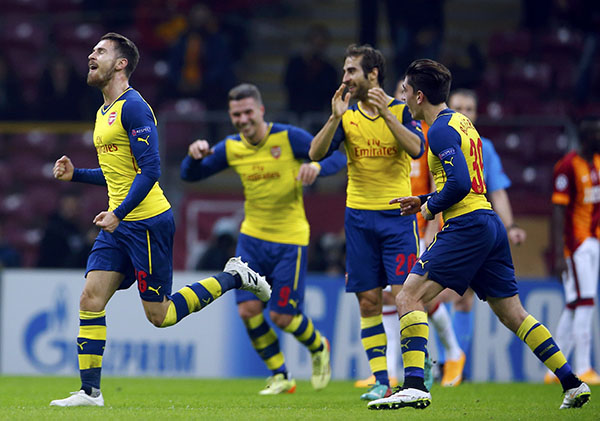 Arsenal's Aaron Ramsey (L) celebrates his second goal against Galatasaray with team mates during their Champions League Group D soccer match at Ali Sami Yen Spor Kompleksi in Istanbul December 9, 2014. [Photo/Agencies]
ISTANBUL - Arsenal midfielder Aaron Ramsey scored a contender for goal of the season when he blasted home a 30-metre volley to help his team cruise past Galatasaray 4-1 to finish second in Champions League Group D on Tuesday.
The Welsh international scored twice, as did Arsenal's Germany striker Lukas Podolski, whose opener, a brilliantly taken angled left-foot shot after three minutes, set them on the way to an easy win over the already-eliminated hosts.
Arsenal had to win and hope Dortmund lost at home to Anderlecht to finish top of the group but the German side drew, meaning the Londoners needed to have triumphed by six goals.
Dortmund and Arsenal both finished with 13 points but the German side took top spot with a better goal difference leaving Arsenal manager Arsene Wenger to praise his side's performance on the night.
"Unfortunately it wasn't enough but we finished with 13 points and did a job tonight. We came out strong and that's what I wanted from the players. This group has a good dynamic and they showed that from the start."
Wenger said he wondered what Ramsey was doing when he set himself up for his shot.
"I thought maybe that's not the best of ideas but the way it went in was absolutely unbelievable" he told Sky Sports.
"There's a little bit of frustration that we have finished runners-up, but we knew at halftime we needed to score six goals without conceding.
"We won four games, lost one and had one draw. Looking back, we can maybe regret that point at home to Anderlecht," he added referring to a match in which Arsenal led 3-0 at home with half-an-hour to play but were pegged back to 3-3 in the last minute.
GREAT STRIKE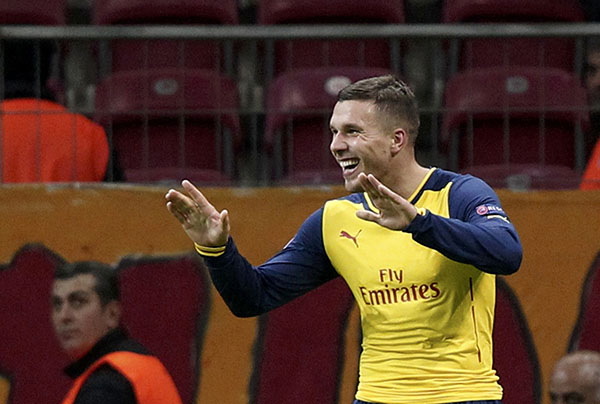 Arsenal's Lukas Podolski celebrates his second goal against Galatasaray during their Champions League Group D soccer match at Ali Sami Yen Spor Kompleksi in Istanbul December 9, 2014. [Photo/Agencies]
Arsenal were already assured of a place in the last 16 for the 15th successive season and the outcome at the Turk Telecom Arena was virtually settled inside the first 11 minutes after Podolski and Ramsey both scored their first goals.
Ramsey's great strike for his second goal came after 29 minutes and the scoreline stayed at 3-0 until Wesley Sneijder scored a consolation for the home side with a beautifully struck free-kick after 88 minutes.
Podolski made it 4-1 with the last kick of the game after weaving through the leaky home defence.
Arsenal, who lost 3-2 at Stoke City in the Premier League on Saturday, reigniting demands from their disgruntled fans that the long-serving Wenger should leave the club, needed a good win in Istanbul and wasted no time in securing it.
Galatasaray, who knew they would finish bottom, should have cancelled out Podolski's outrageous early strike after six minutes but Hakan Balta shot wide with the goal gaping.