MELBOURNE - Flags flew at half-mast at cricket grounds across the world on Friday and players left bats outside their doors in a social media tribute to Australia's Phillip Hughes, who died on Thursday after being struck by a ball.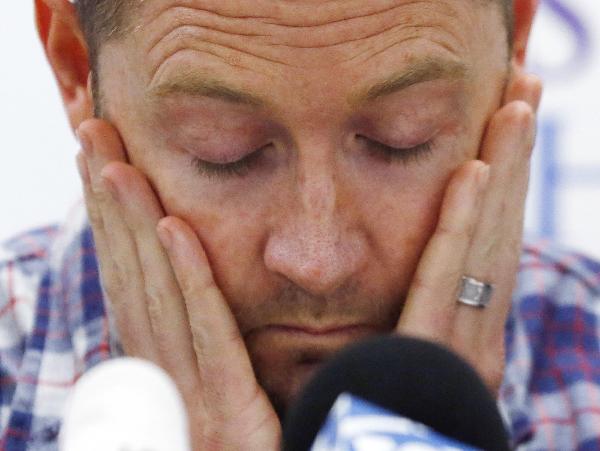 Australian cricket captain Michael Clarke pauses before delivering a statement, on behalf of the family of deceased teammate Phillip Hughes, at St Vincent's Hospital in Sydney, November 27, 2014. [Photo/Agencies]
Hughes' passing from a "catastrophic" head injury dominated the front and back pages of all of Australia's major newspapers, with sombre eulogies for the boy raised on a banana plantation whose life was cut short three days before his 26th birthday.
Selector Mark Waugh compounded a nation's grief when he told local broadcaster Fox Sports late on Thursday that Hughes was in line for a recall to the test side if captain Michael Clarke was unable to recover from a hamstring injury.
"Nation shares the agony of an innings cut short," The Australian's front-page headline read above a picture of Hughes gazing above with an Australian flag in the background.
"Hearts break" was the headline on Melbourne's Herald-Sun, with a full-page image of Clarke wearing his test whites.
"Australian captain Michael Clarke spoke for the family when he said 'cricket was Phillip's life' but the terrible reality is that cricket ended that life," prominent cricket writer Gideon Haigh wrote in a commentary.
"Few had ever considered they were risking their lives when they walked out to bat or risking others' lives when they dropped the ball short."
A social media tribute with the hashtag #putoutyourbats saw weekend cricketers and seasoned players post pictures of their bats outside their front doors on Twitter, with former Australia batsman Dean Jones leaving his bat from the 1989 Ashes series against England.
Support rang out for Sean Abbott, the up-and-coming 22-year-old all-rounder whose rising delivery struck Hughes on the neck, causing an artery to burst, which forced blood into the brain area and would ultimately prove fatal.
"He's got no questions to answer but I'm sure he'll be feeling some guilt today and probably will be for a long time," former Australia captainMark Taylor told local media.
"I really hope Sean can get over it and we one day see Sean back playing for NSW and maybe Australia."
Fans left bouquets of flowers, cards and cricket gear at the doors of the Adelaide Oval and the Sydney Cricket Ground, where Hughes played for first class sides South Australia and New South Wales.
The tributes flowed in from around the world, with England's county cricket community expressing grief for a player who had stints at Middlesex, Hampshire and Worcestershire.
Hughes' death left his Australian team mates devastated, and pundits raised doubts about their ability to play the first test against India next week.
Cricket Australia was yet to confirm whether the match would go ahead.
Former players were divided about whether the match should start as scheduled on Dec 4 in Brisbane next week.
"I just can't see those players getting on a plane and going to Brisbane," former Australia fast bowler Brendon Julian told Fox Sports.