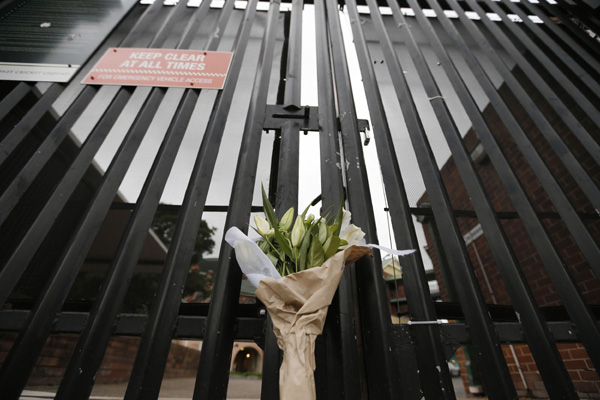 Flowers, left to honour Australian cricketer Phillip Hughes, rest against the gates of the Sydney Cricket Ground, November 27, 2014. [Photo/Agencies]
SYDNEY - Australian cricketer Phillip Hughes died Thursday from a "catastrophic" injury to his head, two days after being struck by a delivery during a match.
Australia captain Michael Clarke, trying to compose himself several times, read a brief statement on behalf of Hughes' parents, brother and sister at a news conference at St. Vincent's Hospital that was broadcast live around Australia.
"We're devastated by the loss of our much-loved son and brother Phillip. Cricket was Phillip's life, and we as a family shared that love of the game with him ... We love you," Clarke read, holding back tears before leaving the room.
Hughes was wearing a helmet Tuesday when he was hit after attempting to hook a short-pitch ball from New South Wales fast bowler Sean Abbott.
Dr. Tony Grabs, a surgeon and director of trauma services who treated Hughes at St. Vincent's, said the 25-year-old cricketer had died from a rare injury _ there have been only 100 documented cases of vertebral artery dissection _ which resulted in severe bleeding on his brain.
"We did a CAT scan of the head to determine what we could do," Grabs said. "This occurred very early and it was recognized we had to make an intervention to help get the pressure down in the brain. He had extensive surgery to remove some of the skull from around his brain to help allow the brain to expand so it wasn't compressed."
Australian team doctor Peter Brukner said Hughes' recovery did not go as hoped.
"Over a period of the first 24 to 48 hours he did not make very much improvement and unfortunately, as a consequence of the injury, he died," Brukner said.
Cricket Australia chief executive James Sutherland said Hughes was immensely talented and dearly loved: "Without doubt, he was a rising star whose best cricket was still ahead of him."
"The word tragedy gets used too often in sport, but this freak accident is real life tragedy," Sutherland said. "Just days short of his 26th birthday, Phillip has been taken away from us too soon. He will forever be remembered as one of the elite few to have worn the baggy green cap, cap number 408."
Also at the news conference, doctors said Hughes was in the care of two specialist doctors before an ambulance and paramedics arrived at the Sydney Cricket Ground, making their delayed response less relevant, Brukner said. It took two phone calls and 15 minutes for an ambulance to get to an unconscious Hughes.
"I think ambulance waiting time is really more relevant when the injured person is not being treated," Brukner said. "I think by any standard or observation, he was receiving excellent quality treatment. Hence, he arrived at the hospital in excellent condition."
Brukner announced the death earlier Thursday in a statement, saying Hughes never regained consciousness. The statement was issued shortly after Australian opener David Warner, one of the first players to help Hughes when he collapsed on the field, had left the hospital in tears.
Hughes' mother and sister were at the match when he was he was hurt, and kept vigil at the hospital. Clarke, a close friend, was among dozens of former and current teammates and stars of the game who visited the hospital to offer their support.