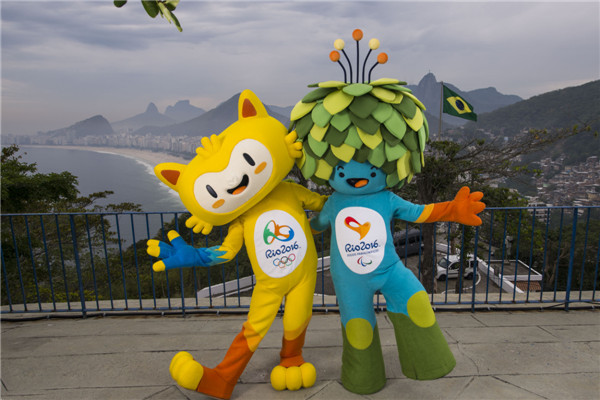 The unnamed mascots of the Rio 2016 Olympic and Paralympic Games are pictured with the Copacabana beach in the background during their first appearance in Rio de Janeiro, Nov 23, 2014, in this handout courtesy of the Brazil Olympic Committee (COB). These mascots of Rio 2016 Olympic and Paralympic Games are inspired by the Brazilian fauna and flora, and their names will be decided through a public vote, according to the COB. [Photo/Agencies]
RIO DE JANEIRO - The official mascots for the Rio 2016 Olympic and Paralympic Games are hybrids of Brazil's native fauna and flora, the local organizing committee has announced.
The Olympic mascot is a combination of a cat, monkey and bird while its Paralympic counterpart is a mix of plants found in Brazilian forests, according to rio2016.com.
"The mascots represent the diversity of our culture, of our people," Rio 2016 brand director Beth Lula said on the organizing committee's official website.
"They represent our joy, our way of being. Both of them are magical creatures with super powers and relate naturally with the young audience, who we want to engage with our event so much."
The general public will have until December 14 to vote on three sets of names for the emblematic figures.
The options are Oba and Eba; Tiba Tuque and Esquindim; and Vinicius and Tom.
Oba and Eba are Brazilian slang words to express surprise, with connotations of happiness and celebration.
Tiba Tuque and Esquindim are indigenous words expressing a desire to dance while Vinicius and Tom are a reference to legendary Bossa Nova musicians Vinicius de Moraes and Tom Jobim.
Organizers said voting would be conducted online at www.rio2016.com/mascots.